Investors Weigh Russia's Sanctions Response
By
EI Sturdza Investment halved its Russian company bond holdings

Russia-U.S. spat may be chance to buy: Ashmore's Dehn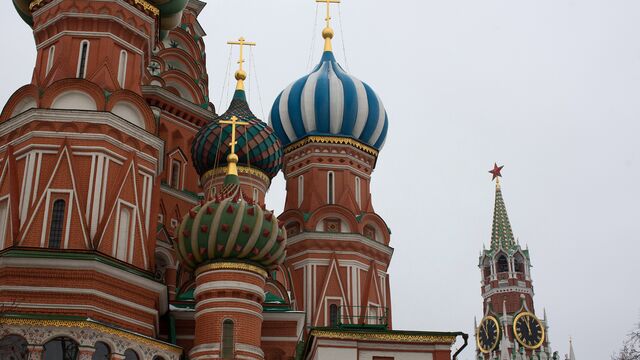 Russian stocks sank the most in six weeks and the ruble erased gains after Moscow said it was sending U.S. diplomats home in response to tougher sanctions passed Thursday by the Senate.
While some investors said the move underscores Russia's pariah-state status, with the penalties now potentially in place for decades, others, including Ashmore Group Plc's Jan Dehn, pointed to the latest downturn in relations as a buying opportunity.
Eric Vanraes, a bond-fund manager working from Geneva at EI Sturdza Investment Funds, which has about $3 billion under management:
"It's clearly negative for Russian bonds. We reduced our positioning in Russian corporate bonds from 16 percent to 8 percent at the start of the week. Now, it's clearly negative and my current mood is to decrease this weight of 8 percent in case of new negative news. It was a risk-management decision"
Read More: Russia Orders 'Hundreds' of U.S. Staff Out in Sanctions Reprisal
Jan Dehn, London-based head of research at Ashmore Group, which has $58 billion in assets:
"I think it simply reflects the reality that Trump is getting more marginalized, that Congress hates Russia and that relations will remain cool for a while. It does not help sentiment, but negative sentiment is your friend if you want to go shopping for bargains in the bond market. These types of events are precisely the ones you want to look out for when you want to make money in bond markets"
Ogeday Topcular, who helps oversee $300 million in fixed income as managing partner at RAM Capital SA in Geneva:
The move is "actually pretty bad, but expected after all the news coming from the U.S. in the last couple of months"
"Tension is high and seems not to be dissipating soon. Nobody knows today how far this could go. We're underweight Russian bonds. However we're thinking of increasing exposure if the pricing offers good entry points"
Pavel Laberko, a London-based equity money manager at Union Bancaire Privee:
"I place the most weight on the decision to codify the sanctions. In my view, this means they are here to stay for a very long time, for many years if not decades. So yes, they are not life-changing, they just postpone any potential life improvements further beyond the visible horizon"
Olga Baklunova, a stocks trader at ITinvest in Moscow:
"While the reduction in the number of U.S. diplomats won't have direct economic consequences, this move spurs concerns about further escalation of relations between Russia and the U.S. The deterioration of the geopolitical background is always negative for investors"
Julian Rimmer, a trader at Investec Bank Plc in London:
"Other than fostering negative sentiment among international and particularly U.S. investors, these headlines are precisely that: just headlines. Russia is set to remain a pariah-state investment case for the foreseeable future"
Before it's here, it's on the Bloomberg Terminal.
LEARN MORE