technology
Netflix Adds a $500 Million Credit Line
By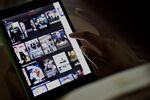 Netflix Inc., which has been spending billions of dollars on TV shows and movies for its online video service, lined up a $500 million revolving credit facility through five lenders including Deutsche Bank AG and Goldman Sachs Group Inc.
The company has the option to increase the credit line by $250 million, according to a regulatory filing Friday. Netflix, based in Los Gatos, California, plans to use the money for working capital and general corporate purposes.
The company has been borrowing to finance the development of movies and television shows, along with programs it licenses from other producers. In April, Netflix issued 1.3 billion euros ($1.41 billion) in senior notes for potential acquisitions and strategic deals. The company's long-term program budget totals $15.7 billion, according to the latest quarterly report.
Other banks involved in the credit line include JPMorgan Chase & Co., Morgan Stanley and Wells Fargo & Co.
Netflix have been trading near all-time highs since July 17, when the company reported better-than projected subscriber growth for the second quarter. The shares gained 0.7 percent to $184.04 Friday in New York and are up 49 percent this year.
Before it's here, it's on the Bloomberg Terminal.
LEARN MORE