Jailed Mayor, Ex-President Contest Senegal Parliamentary Vote
By
Vote marks political comeback of 91-year-old ex-president

Detained mayor of Senegal's capital campaigned from prison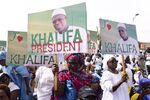 Senegalese voters will elect a new parliament on Sunday in a vote that was marred by violence during campaigning as the ruling coalition is challenged by a 91-year-old former president and the imprisoned mayor of the capital, Dakar.
President Macky Sall's coalition Benno Bokk Yakaar is one of 47 parties vying for 165 seats in a national assembly that's been expanded to reflect a growing population. Fifteen seats have been allocated for the millions of Senegalese living overseas in a nation where remittances exceed aid or direct foreign investment. While Sall's party currently controls 119 seats, disputes between politicians and constantly shifting alliances between parties mean it's not guaranteed he will maintain a large majority in parliament, said Mory Traore, professor of political science at Cheikh anta Diop University in Dakar.
"There's been a huge amount of positioning," Traore said. "It's not about ideology or ideas, it's about parties forming coalitions."
The run-up to the vote was marred by fighting between supporters of the ruling coalition and Dakar mayor Khalifa Sall, who was detained on corruption charges in March but has yet to be heard by a judge. Sall, who denies the allegations and says his detention is politically motivated, sent an open letter from prison criticizing the cost of living and the government taking on large debts to fund infrastructure projects. The mayor is not related to Macky Sall.
The clashes were unusual in the country that's known for its peaceful transitions of power. Senegal is one of two countries in West Africa -- the other is Cape Verde -- that has never experienced a military coup while its economic prospects have been boosted by offshore oil and gas discoveries.
Political Comeback
The economy will grow 6.8 percent this year, the most in sub-Saharan Africa after Ethiopia and Ivory Coast, according to the International Monetary Fund.
The vote also marks the comeback of 91-year-old Abdoulaye Wade, who served 12 years as president before losing a 2012 election to his former protege Macky Sall and subsequently leaving the country. Wade's son Karim was found guilty in 2015 of illegal enrichment committed while holding four ministerial portfolios under his father. He was released from prison when Sall pardoned him last year. Abdoulaye Wade, who in 2012 sought to prove he was physically fit by jogging in public, told his supporters he's not ready to retire.
Macky Sall, who may seek a second presidential term in 2019, has embarked on large infrastructure projects, including a commuter train and a new city that's meant to alleviate congestion in the capital. He has touted his government's investments in impoverished villages during his campaign and is likely to attract rural votes, according to Mamadou Sidibe, a resident of the southeastern village of Kedougou.
"Macky Sall hasn't forgotten villages that are so small you can't even find them on a map," Sidibe said by phone. "We have drinking water since the government made us a borehole and our women no longer have to exhaust themselves to fetch water."
Before it's here, it's on the Bloomberg Terminal.
LEARN MORE