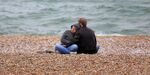 The corporate bond market in Europe has been a whirl of activity this year, as low rates attract a range of borrowers. The fun's about to wind down, and it's not just the typical summer lull.
One big driver of demand, the European Central Bank's corporate bond buying program, might be about to disappear. And there are growing signs investors are suffering low-rate fatigue as credit spreads sink to record lows. 
The ECB meeting on Sept. 7 should address how QE programs are tapered next year. The central bank now holds over 100 billion euros ($116.6 billion) of mostly investment-grade corporates, and the sheer scale of its buying power has driven borrowing costs down for all grades of issuers.
President Mario Draghi has yet to give any guidance on what will happen with this element of monetary policy, and he needs to. The prospect of the ECB deciding to scale back on its corporate bond purchases should make investors more cautious. So for the next few weeks, it doesn't make sense for would-be buyers to dive in with yields this low. 

And then there's the indigestion. High-yield supply year to date of 74 billion euros is well ahead of last year's 47 billion euro pace. But some recent deals have faced more than the usual August liquidity evaporation. For example, would-be buyers demanded better terms on department store's Hema BV's 750 million-euro refinancing before the deal could get away. Other deals have been pulled entirely. The point Gadfly argued late last month -- that borrowers shouldn't get greedy -- still holds. 

Momentum is already waning. July looks to be clocking in around half the average monthly pace of 115 billion euros in the first half.

A drop-off is also in store at a broader level, according to a Bloomberg poll. Both August 2015 and 2016 were particularly busy for deals in euros, sterling and dollars, with about 50 billion euros of issuance completed. Reaching that would seem a stretch this year.
What new issuance there might be during August is more likely to come from larger financials -- who have been noticeably less active in euros this year. Frequent issuers, such as big banks, tend not to need investor road shows that are harder to arrange in the summer lull.
Investors may prefer to stay away until the ECB makes its plans clear. For the corporate bond market, it's a cruel (cruel) summer. 
Before it's here, it's on the Bloomberg Terminal.
LEARN MORE