Credit Suisse Is Looking More Like a Wealth Manager
By
Wealth management profit rises as client activity picks up

Rival UBS takes hit to capital buffers even as profit rises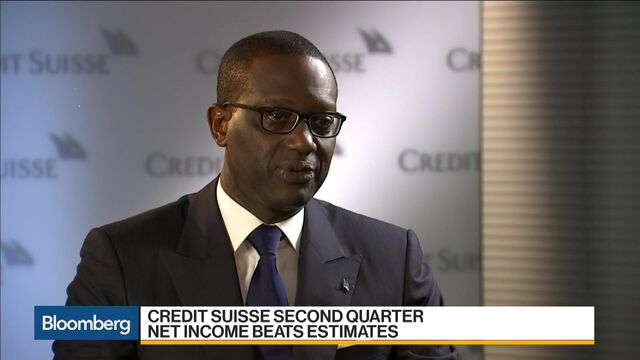 Halfway through Tidjane Thiam's three-year restructuring plan, Credit Suisse Group AG is gaining traction.
Switzerland's second-largest lender on Friday reported a 78 percent increase in second-quarter profit, to 303 million francs ($312 million), as clients added about 11 billion francs in new money to its main wealth management units. Lower expenses lifted profit at the global markets trading business, still the biggest contributor to the top line, even as revenue declined because of low volatility.
Credit Suisse rose as much as 4 percent, the biggest gain since April 24. Cross-town rival UBS Group AG, which also reported higher earnings Friday, suffered the biggest drop in six months, after its capital buffers took a hit following a regulatory review.
"It's feeling good," Thiam, Credit Suisse's chief executive officer, said in an interview. "We believe all the things identified as key, we are delivering."
Thiam, 54, has cut costs, eliminated thousands of jobs and sold down bad assets to reduce reliance on volatile debt trading in favor of more stable businesses such as wealth management. He raised $4.3 billion in capital this year, allowing the bank to hold on to its profitable Swiss unit. A push to expand in Asia has proven more difficult as the trading business in the region posted losses for three straight quarters.
Adding Assets
"The results are better than expected," with profit better in all core divisions, JPMorgan Chase & Co. analysts Kian Abouhossein and Amit Ranjan wrote in a note to clients.
Credit Suisse's international wealth management unit, led by Iqbal Khan, reported a 49 percent increase in pretax profit to 365 million francs. At the private banking business in Asia, profit rose 67 percent to 149 million francs from 89 million francs. The international and Asian businesses combined received 9.1 billion francs in new money from clients.
The Swiss bank, the biggest unit by revenue after the global markets business, reported 11 percent higher earnings. Clients added 1.7 billion francs in new money during the quarter. Thiam, who had initially planned to sell parts of that business to raise capital, in April reversed course, deciding to tap shareholders for fresh cash instead after a rally in European bank stocks.
"Credit Suisse delivered a strong set of results with slightly lower revenues, which was yet more than offset with much lower expenses," said Tomasz Grzelak, an analyst at Baader Helvea AG in Zurich. "Wealth management-related businesses recorded very healthy performance."
UBS Slumps
UBS, Switzerland's largest bank, reported a 14 percent increase in second-quarter profit as its wealth management business got a boost from rising U.S. interest rates. But a measure of its ability to absorb losses deteriorated as Swiss financial regulator Finma is pushing up standards in preparation for a new global regulatory framework.
The bank reported a core equity Tier 1 ratio of 13.5 percent in the second quarter, down from 14.1 percent at the end of March. The decline reflected additional risk-weighted assets for Lombard lending, real estate and counter-party risk in the investment bank, Chief Financial Officer Kirt Gardner said on a conference call.
Credit Suisse traded 2.9 percent higher at 2:49 p.m. in Zurich, while UBS traded down 2.8 percent after earlier falling as much as 4.3 percent.
Credit Suisse's global markets unit, run by Brian Chin, posted a 67 percent increase in pretax profit as expenses declined 16 percent. That offset a 6.9 percent drop in revenue. Chin, who took over at the unit last year, hired executives from rivals, including Mike Stewart, who joined earlier this month from UBS as head of equities, and Mike Di Iorio from Barclays Plc as head of the division for Europe, the Middle East and Africa.
'Unimaginable, Unprecedented'
"Where we are being challenged, and you'll see that in the numbers, is volatility," Thiam said in the interview. It has fallen to "unimaginable, unprecedented" lows.
The trading business in Asia, headed by Ken Pang, reported a loss of 8 million francs as revenue slumped 37 percent from a year earlier. Pang is firing traders and shrinking operations, with plans to cut as many as 35 positions from the equities business, a person familiar with the matter said in May.
"Ever since I've run companies there's something that needs to be turned around. Now its APAC markets at Credit Suisse," Thiam said at a press conference presenting the results. "We know how to do it. We've done it in global markets."
Across the company, fixed-income trading rose about 4 percent while revenue from equities trading fell 29 percent from a year earlier, for a seventh straight quarterly drop. The slump reflects a decision to move the Systematic Market-Making Group, a team that traded stocks based on algorithms, to the asset management arm, where it can raise outside capital.
Deutsche Bank AG, which like Credit Suisse is pivoting away from fixed-income trading and has tapped shareholders for fresh capital, on Thursday reported a 12 percent drop in fixed-income trading and 28 percent lower equities trading. The bank's overall revenue was the weakest since the end of 2013 amid "muted" client activity.
Credit Suisse on Friday reiterated that it's on track to wind down its bad bank ahead of plan by the end of 2018. Losses from that business, called the strategic resolution unit, declined to 563 million francs last quarter, from 759 million francs a year earlier.
— With assistance by Francine Lacqua, and Steven Arons
Before it's here, it's on the Bloomberg Terminal.
LEARN MORE