British Airways, Air France Profits Jump on Long-Haul Sales
By
Rivals each post near-50% earnings gains, bullish on pricing

Optimism contrasts with bleak fare outlook in discount sector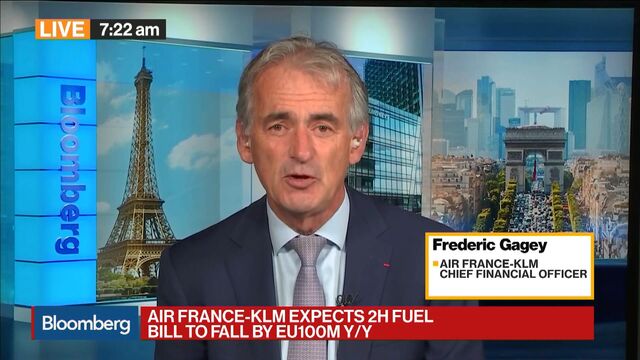 British Airways parent IAG SA and its biggest competitor Air France-KLM Group both boosted second-quarter earnings around 50 percent amid strong demand for business travel on routes to Asia and Latin America.
Europe's two largest airlines are benefiting from higher long-haul prices as rivals that are focused on shorter routes see fares crimped by overcapacity. IAG said earnings should show a double-digit jump for the full year, while Air France reiterated its targets for a positive cash flow and reduced net debt.
"We're optimistic," IAG Chief Executive Officer Willie Walsh said on a conference call Friday, adding that the London-based company had enjoyed a "very strong" performance. "It's across the network, it's not just about premium bookings and it's not just about long-haul."
Walsh's tone contrasts with recent comments from discount-sector leaders Ryanair Holdings Plc and EasyJet Plc, which have cautioned that a capacity battle in Europe will continue to weigh on fares for the foreseeable future. Deutsche Lufthansa AG, while reporting higher first-half earnings, said the trend in unit revenue will be "negative" for the rest of the year.
Shares of IAG rose as much much as 3.4 percent and priced 0.4 percent higher at 596.50 pence as of 2:09 p.m. in London. Air France-KLM gained 4.2 percent before falling back to trade 2.3 percent lower at 11.81 euros after a landmark deal that saw Delta Air Lines Inc. and China Eastern Airlines Corp. each agree to buy 10 percent stakes in the Paris-based business. Lufthansa, Ryanair and EasyJet all dropped immediately after their earnings statements.
Spanish Gains
IAG's quarterly operating profit before one-time items rose 45 percent to 805 million euros ($941 million), beating the 747 million-euro figure predicted by analysts. The London-based company's Spanish Iberia arm posted a profit from a year earlier loss while discount unit Vueling cut its deficit and British Airways tapped a strong trend in corporate bookings.
A power outage at BA that grounded flights for more than 75,000 passengers cost 65 million euros more in compensation than at the same time last year, though earnings were bolstered by a late Easter. Passenger unit-revenue -- a measure of fares -- should gain in the second half at constant currencies, spurring 12-month profit growth of at least 10 percent, Walsh said.
Performance at IAG's new long-haul, low-cost brand Level, which will add three additional Airbus A330s for a fleet of five from next year, "has surprised" on the positive side, Walsh said. The airline, which will compete with Air France's Joon unit set to start operations this autumn, could expand into Asia after establishing itself on trans-Atlantic routes.
Walsh said IAG isn't bidding for bankrupt Alitalia SpA, though is keeping an eye on Etihad Airways PJSC, which has a stake in the Italian company and is restructuring as losses mount, and Air Berlin Plc, also unprofitable and part-owned by the Abu Dhabi operator.
Virgin Stake
Air France-KLM, the European No. 1, lifted three-month operating profit 56 percent to 496 million euros as unit revenues rose 4.4 percent at constant currencies. With four-month long-haul bookings higher than a year ago, fares should be "slightly up" in the second half, it said. It's also targeting positive free cash flow and a further reduction in net debt.
The positive development in unit revenue shows the "wide balance of demand and supply" in Air France-KLM's markets, Chief Financial Officer Frederic Gagey said in a Bloomberg TV interview.
As well as selling stakes to Delta and China Eastern, Air France-KLM will itself spend 220 million pounds on buying 31 percent of Virgin Atlantic Airways Ltd. as part of a plan for an expanded trans-Atlantic alliance.
Before it's here, it's on the Bloomberg Terminal.
LEARN MORE