Vontobel Drops After Passive Funds Dent Asset-Management Profit
By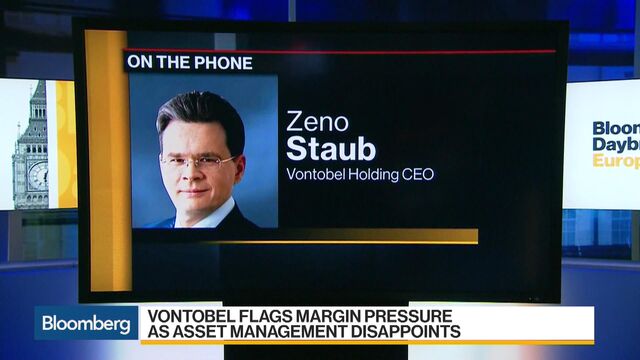 Vontobel Holding AG fell the most in more than a year in Zurich trading after competition from passive investment competitors drove down profit at its asset-management division.
The stock declined by as much as 5.4 percent, the most since June 2016, and was priced at 62.75 francs as of 10:10 a.m.. Pretax profit from asset management declined 19 percent in the first half to 69.5 million Swiss francs ($73 million), the Zurich-based private bank said in a statement on Thursday. That missed analyst estimates of 82.3 million francs.
Despite a shift toward low-cost passive investment strategies, Vontobel intends to resist following that approach and carve out a niche for itself as a high-conviction asset manager, Chief Executive Officer Zeno Staub said in a Bloomberg TV interview on Thursday.
"What is dying in the marketplace are passive managers in disguise, people who are trying to sell index-hugging for active fees," the CEO said.
Vontobel is seeking to lure clients amid competition from index-trackers offered by the likes of Vanguard Group and Blackrock Inc. Staub said in February that 2017 would "not be an easy year," with many clients remaining cautious. He also highlighted the effect of rising U.S. interest rates and their impact on Vontobel's emerging-markets funds.
Group net income declined to 98.7 million francs in the six months through June from 103.3 million francs a year earlier, Vontobel said in the statement. That compares with an average estimate of 98.8 million francs by 10 analysts published on Vontobel's website.
Quiet Clients
Clients are still keeping a "significant part" of their money on the sidelines amid a shift towards low-fee passive funds and that's hurting Vontobel's top line, Staub said. The bank nonetheless expects to achieve a "solid" result in 2017, he said in an earnings statement Thursday, adding that Vontobel is well positioned in "uncertain markets increasingly influenced by political factors."
Vontobel, which has private wealth, institutional asset management and financial products businesses, is a "clear winner" of the structural change in the market Staub said, citing acquisitions in recent years. "We have the capital and ability to execute."
The bank expanded by acquiring Vescore Ltd. last year and Twentyfour Asset Management LLP in 2015 and has said it will consider further deals to expand in asset management, the biggest contributor to profit.
Vontobel will hold an investor day on Aug. 31, when it will present its new mid-term targets for the period through to 2020, the company said.
The bank attracted 300 million francs of new money across its businesses as it recovers from the loss of 15.7 billion francs from the U.S.-based Quality Growth asset management business last year.
— With assistance by Manus Cranny, and Anna Edwards
Before it's here, it's on the Bloomberg Terminal.
LEARN MORE