business
UPS Reaps the Reward of Price Increases
By
Retail woes add to pressure on courier squeezed by e-commerce

Company is trying to improve efficiency of shipments to homes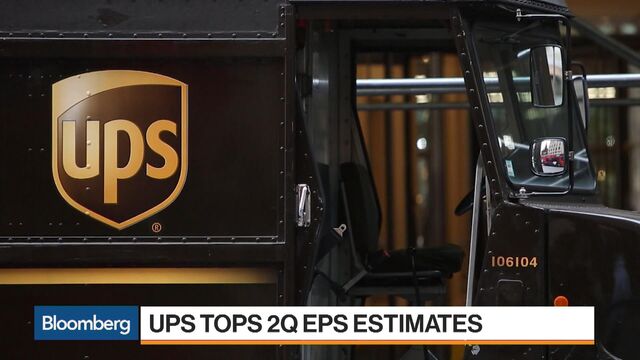 United Parcel Service Inc. is contending with a new hurdle from the online shopping boom: fewer stores.
A rash of shuttered retailers means less demand for package deliveries to businesses, UPS Chief Financial Officer Richard Peretz said on a conference call Thursday. Along with a more sober outlook for industrial production, that kept the courier from raising its 2017 profit forecast even after recent price increases.
"We are a little challenged because the number of stores that are closing is having an impact on growth" in business-to-business shipments, Peretz said.
Store closings hurt UPS because they cut down on the number of commercial customers -- and carrying shipments to businesses is more profitable than dropping off parcels at homes. Surging e-commerce is boosting the demand for residential deliveries and squeezing earning at the world's largest package-delivery company.
The shares tumbled 4.4 percent to $107.34 at 2:05 p.m. in New York after sliding as much as 4.7 percent for the biggest drop in more than five months. UPS declined 2 percent this year through Wednesday, compared with an 8.9 percent increase in an S&P 500 index of industrial companies. Rival FedEx Corp., which relies more on business-to-business deliveries, had gained 15 percent.

Fewer stores means fewer packages being hauled from one business to another.
"The forecast for B-to-B, if you go back earlier in the year to today, is not quite as strong because of retail sales and also because industrial production forecast were higher even three months ago to where they are today," Peretz said.
At the same time, while store closures hurt, UPS actually has been picking up some business from retailers as an increasing number of people are ordering items online and having them delivered to nearby stores, Chief Executive Officer David Abney said.
Store Closings
Brick-and-mortar retailers are suffering from sluggish mall traffic and an exodus of shoppers to Amazon.com Inc. Chains including Payless Inc., Gymboree, HHGregg Inc. and RadioShack have filed for bankruptcy this year.
The biggest department-store companies, such as Macy's Inc., Sears Holdings Corp. and J.C. Penney Co., are shuttering hundreds of locations combined.
The total number of store closings is expected to hit a record in the U.S. this year, with Credit Suisse Group AG analyst Christian Buss estimating the number could hit 8,640.
E-Commerce Jump
That puts the spotlight on UPS's efforts to improve the efficiency of residential deliveries, with investments in warehouse automation, new jets and upgraded technology.
Online customers buying such products as books, basketballs and bicycles are pushing up costs for each delivery since UPS drivers hand off only 1.1 packages to the average household but more than three to the typical business. That's fueled investor doubts that the company can capitalize on the e-commerce surge.
In the second quarter, UPS's adjusted earnings climbed to $1.58 a share, exceeding the $1.47 average of analysts' estimates. Sales increased 7.7 percent to $15.8 billion. Analysts expected $15.5 billion. Revenue per parcel in the U.S. rose 3 percent after the courier raised prices and boosted fees on over-sized items the company implemented this year.
UPS reaffirmed its 2017 forecast for earnings of $5.80 to $6.10 a share. The midpoint of that range, $5.95, trails the average of analysts' estimates by a penny. Estimates for UPS's earnings in the second half "may have to be reined in" since the company exceeded second-quarter estimates but didn't raise its outlook for the year, said Lee Klaskow, an analyst at Bloomberg Intelligence.
'Show-Me Story'
Per-share earnings "should begin to accelerate in 2018 as the benefits of implementing Saturday operations, modernizing facilities and investing in technologies that boost the number of packages delivered per stop reach the bottom line," Klaskow said in a report.
What remains to be seen this year is how well UPS company copes with the crucial holiday season in the fourth quarter, said Kevin Sterling, an analyst at Seaport Global Securities.
"UPS is a show-me story," Sterling said before the earnings were released. "It all comes down to how they handle Q4 and peak season."
— With assistance by Nick Turner
Before it's here, it's on the Bloomberg Terminal.
LEARN MORE