U.S. Missile Defense Looms Over Lotte Just as Debt Rises
By
The Korean company's bond sales this year are most on record

Uncertain if Hotel Lotte's finances to improve: rating firm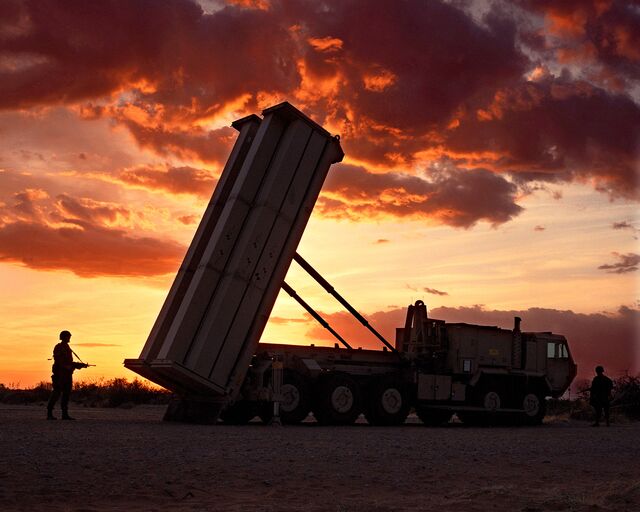 South Korea's deployment of a U.S. missile-defense system has come at the worst possible time for Hotel Lotte Co., threatening a decline in Chinese business just as the firm boosts debt issuance.
China restricted tour packages to South Korea from March after the U.S.-supplied Terminal High Altitude Area Defense system was installed. That's bad news for Seoul-based Hotel Lotte, the nation's biggest operator of duty-free shopping. The company offered five-year bonds at 2.544 percent last week, 16 basis points higher than the average yield on similar-maturity Korean company notes with the same AA+ local rating as the firm.
Hotel Lotte has sold 750 billion won ($674 million) of bonds this year to help raise funds for planned investments, already more issuance than any other year, Korea Securities Depository data show. The company's local credit-rating outlook was cut to negative last month due to its falling profitability and increasing leverage, and a downgrade could push up its borrowing costs. Hotel Lotte withdrew a planned initial public offering last year, and said in March that the IPO would likely be in 2019.
"It's uncertain whether the company's financial status will improve considering its sluggish sales in the duty-free business, coupled with its large-scale investments and the delay in its planned share listing," said Hong Seok Jun, a senior analyst in Seoul at Korea Investors Service, a local affiliate of Moody's Investors Service. Hong said a rapid drop in Chinese tourists after the deployment of Thaad could weigh on the company's earnings.
Sales Outlook
Korea Investors Service expects tax-free shopping in the nation to decrease 1 trillion to 2 trillion won this year, from about 12 trillion won last year. Such sales have climbed from 3.3 trillion won in 2009 amid a jump in visitors from China.
Lotte's duty-free sales this year have dropped for the first time since 2003, where there was an outbreak of severe acute respiratory syndrome, Lotte said by email. The current decline is due to the restriction of Chinese tour packages, and the trend isn't likely to be resolved for a while, it said.
Chung Yong-Jin, the vice chairman of Shinsegae Group, another Korean retail giant, said in a meeting with President Moon Jae-in and business leaders on Thursday that tax-free shops haven't seen Chinese group tourists recently due to the Thaad effect. There's no sign of a recovery, he said.
Hotel Lotte's leverage has climbed after its acquisition of The New York Palace hotel and shares of local companies in past years. Net debt has risen to 13.2 times earnings before interest, tax, depreciation and amortization at the end of March, from 3.3 times at the end of 2014, according to KIS. The company also has 1.6 trillion won of commercial paper it needs to repay within a year.
Hotel Lotte still needs to finance investments it plans this year including domestic hotels, resort and tax-exempt shops, and that will weigh on its financial stability, according to Korea Ratings.
"Potential credit-rating downgrades are reflected in its borrowing costs," said Park Jin-Young, a credit analyst in Seoul at HMC Investment Securities Co. "The IPO outlook appears dim now with shrinking Chinese tourists. The company really needs a recovery in Chinese visitors to improve its finances but it seems to be uncertain for a while."
Before it's here, it's on the Bloomberg Terminal.
LEARN MORE