markets
Prosecutor Calls Shkreli a Liar in Closing Arguments
By and
Shkreli accused of engaging in four elaborate fraud schemes

Ex-pharmaceutical executive didn't take the stand at his trial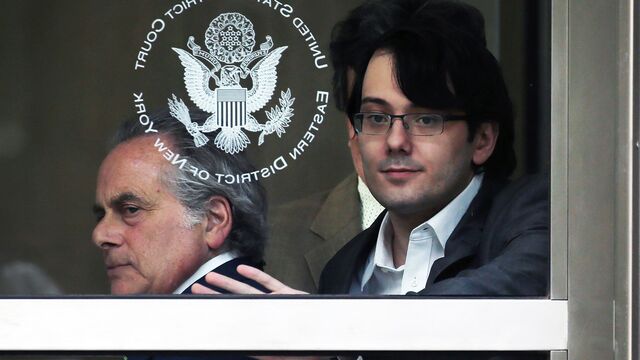 Martin Shkreli could only sit and listen as a federal prosecutor tore into him, calling him a liar who doubled down on his crimes when the going got tough.
The flamboyant former pharmaceutical executive who's maintained a high-profile social media presence is known more for hurling obnoxious insults at his Facebook or Twitter followers than taking criticism silently. But Thursday, during hours of closing arguments in his fraud trial in federal court in Brooklyn, New York, he had no choice.
Assistant U.S. Attorney Alixandra Smith outlined the government's case against him, recounting the numerous lies Shkreli allegedly told investors in order to win their trust -- and persuade them to give him money.
While Shkreli's investors to this day have no idea what actually happened to the money, the evidence helps "pull back the curtain" on four elaborate fraud schemes, she said. They include the start of Retrophin Inc. to repay clients after Shkreli's hedge fund imploded, she said.
Shkreli "told each investor what they wanted to hear or what the defendant thought they wanted to hear," Smith said. "Depending on which investors he is talking to, he changes his story."
Shkreli, 34, is accused of running his hedge funds and Retrophin like Ponzi schemes. He took $11 million out of the startup's coffers to pay off disgruntled hedge fund investors, Smith said. As part of his scheme, prosecutors said, he repaid investors who lost money in his funds with Retrophin shares and created sham consulting agreements.
Shkreli's Boasts
Shkreli lied about his education, telling one investor that he graduated from Columbia University, claiming to a second that he'd dropped out of the Ivy League school and confiding to a third that he was too poor to attend college, Smith said. The truth is Shkreli graduated from Baruch College in New York, she said.
Shkreli's boasts about his investments were also untrue, she said. He claimed to be a successful Wall Street money manager who made double-digit profits and had as much as $50 million of assets under management. Instead, jurors saw bank records that showed Shkreli never had more than $3 million in his fund. Whenever Shkreli got cash from a new investor, he used it to pay off those who demanded their money back, Smith said.
Over four weeks of trial, investors in Shkreli's two hedge funds testified they had to pursue him aggressively, sometimes for years, to get their money back. Smith reminded jurors of emails he dashed off, including one from March 2011 in which Shkreli instructed an associate to tell investors that they were "treated with trust, transparency and a quick turnaround."
Shkreli, who gained notoriety for raising the price of a potentially life-saving drug by 5,000 percent, was his usual self as Smith spoke, smiling occasionally and sometimes raising his eyebrows or expressing mock incredulity.
Last Chance
But in the afternoon, as defense attorney Benjamin Brafman began addressing jurors, Shkreli turned serious, as if realizing it was his last chance to convince jurors of his innocence. His smiles disappeared and he stared directly at the panel as Brafman called him a "genius" and "brilliant young man" who tried to repay investors with Retrophin stock after he built the company into a success.
"This is not a case where anybody was defrauded," Brafman said.
Brafman acknowledged that his client took months to respond to investors' queries. "Some investors he ignored for days," Brafman said. "But he's not charged with aggravating someone. If you're stalling because you're building a company, that's not evidence of a fraud."
The lawyer said Shkreli struggled to make Retrophin a success so that he could repay his investors, some of whom ultimately made millions of dollars.
"Martin Shkreli believed in his own mind that Retrophin was a valuable idea," Brafman said. "He struggled for two years to make a fortune and when he finally did, what did he do? Did he say, 'Screw you MSMB investors, you can't sue me?' No, he made them whole."
"He's not a Ponzi guy who bought Cadillacs or yachts," Brafman added.
Prosecutors will offer a rebuttal on Friday morning, and jurors will begin deliberating after the judge instructs them on the law.
The case is U.S. v. Shkreli, 15-cr-0637, U.S. District Court, Southern District of New York (Manhattan).
(
Updates with defense argument.
)
Before it's here, it's on the Bloomberg Terminal.
LEARN MORE