Russia Ponders Limited Options for Hurting U.S. Over Sanctions
By and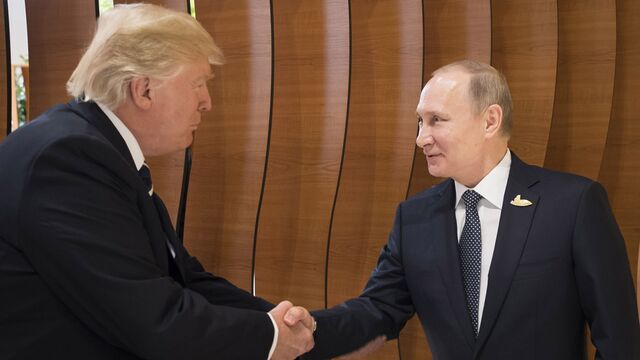 Russia is threatening "painful" retaliation against the U.S. if new sanctions passed by the House of Representatives become law, though the limited trade ties between the two nuclear powers leave few appealing options.
The House voted by 419-3 on Tuesday for a bill that would let Congress block any effort by President Donald Trump to unilaterally weaken sanctions imposed under the Obama administration for Russian meddling in the 2016 presidential elections and its support for separatists in Ukraine. The measure now goes to the Senate amid mixed signals from the White House about whether Trump will sign it.
While President Vladimir Putin didn't hit back when the U.S. expelled 35 Russian diplomats and seized two embassy compounds in December over the meddling, the Kremlin says patience is running out over Trump's failure to reverse the penalties. Even so, with relations near their worst since the Cold War ended a quarter century ago, Russian officials acknowledge they lack choices for inflicting economic and political pain on the U.S. in response to the sanctions. 
The U.S. was Russia's third-largest trading partner in 2016 with exports and imports valued at $25.6 billion, though that's still only about five percent of Russia's overall trade.

Possible options include:  
Tit-for-Tat Expulsions: The Russian Foreign Ministry has already warned that it'll expel U.S. diplomats and seize embassy property in Moscow if its demand for the return of the compounds isn't met. That's unlikely to satisfy Russia's desire for retaliation and risks spiraling into further rounds of expulsions as each side blames the other for poisoning relations.
Block Exports of Key Metals and Minerals: Russian titanium producer VSMPO-Avisma, which is 25 percent owned by Rostec State Corp. but controlled by private investors, is one of the largest suppliers for Boeing Co. It's not in either side's interest to halt sales, while the overall volume of Russian metals and fertilizer exports to the U.S. "isn't significant and won't hurt America should it be banned," said Oleg Petropavlovskiy, an analyst at BCS Global Markets.
Space Cooperation: The U.S. relies on Russia to fly its astronauts to the International Space Station on Soyuz rockets since its own shuttle program ended in 2011. A NASA report in September said the U.S. will spend $950 million in total to buy 12 seats for crew members in 2017 and 2018. The Kremlin may be reluctant to deprive Russia's cash-strapped space agency of the money by banning astronauts from flights.
Geopolitics: Russia and the U.S. already don't see eye-to-eye on tackling foreign-policy challenges in North Korea, Iran and the Middle East. The Kremlin could opt for greater obstruction of U.S. initiatives in the United Nations Security Council, while more aggressively asserting its interests in places like Syria, Libya and Afghanistan.
Energy: The U.S. imported only about 9 million barrels of crude oil and petroleum products from Russia in April, according to the U.S. Energy Information Administration, and the volume's been declining in recent years. Any Russian ban would have little impact amid the current global supply glut. Russia also provides about a fifth of enriched uranium used by U.S. nuclear power plants, according to state-owned Rosatom Corp., which said in October that it has no intention of restricting supplies that are based on "long-term contracts subject to strict implementation."
Ban U.S. Consumer Goods: Putin reacted to U.S. and European Union sanctions over the Ukrainian crisis by banning imports of many food products in 2014. The counter-sanctions, which are still in place, were blamed for stoking inflation and hailed as a stimulus for domestic production. A Russian senator has already called for "sanitary sanctions" against McDonald's Corp. restaurants. Putin could block imports of U.S. electronics goods such as phones and computers, though it's unlikely to be popular with Russia's young and middle-class consumers. 
Wild Cards: Putin reacted to sanctions from Washington on alleged human-rights violators in the Magnitsky Act by banning U.S. adoptions of Russian children, a completely unrelated issue. He may strike back with similar "asymmetrical" measures that are, by their nature, unpredictable.
While Russia's learned to live with U.S. sanctions, the measures are still "stalling investment, growth and development -- and furthering stagnation," said Tim Ash, a senior strategist at Bluebay Asset Management in London. "This is about longer term geopolitical relations between Russia and the West -- and this bill suggests that they will be strained over the long term now." 
Before it's here, it's on the Bloomberg Terminal.
LEARN MORE