Noble Group Default Risk Flares as Warning Deepens Crisis
By , , and
Shares slump 49% in Singapore as bonds trade near record low

Moody's says co.'s reduced scale may hurt ability to pay debt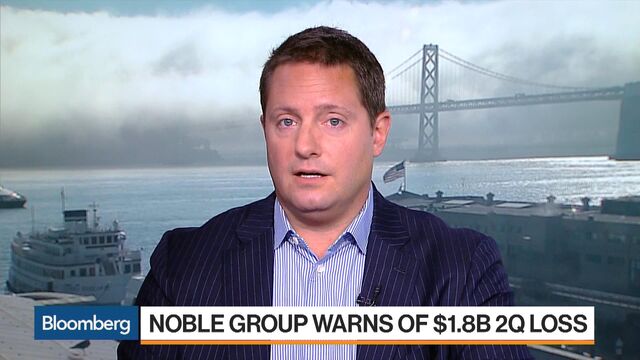 Noble Group Ltd.'s crisis escalated as Moody's Investors Service Inc. flagged an elevated risk of default after the embattled Hong Kong-based commodity trader warned of a quarterly loss of as much as $1.8 billion and announced more asset sales.
"The further expected deterioration in Noble's financial results in the second quarter of 2017 suggests that default risk will remain elevated," Gloria Tsuen, a Moody's vice president and senior analyst, said in a statement as the company's shares tanked in Singapore. The stock lost as much as 49 percent, with investors zeroing in on a bond coupon due on Saturday.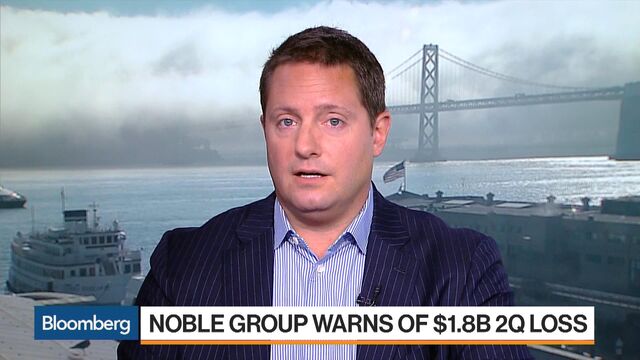 Noble Group has been under siege for more than two years, marked by vast losses, mounting concern it will default and accusations it inflated the value of some contracts, which it's denied. On Wednesday, it warned of the second-quarter loss, and said it'll sell its gas-and-power unit and plans to dispose of its oil-liquids business. Moody's warned that Noble Group's reduced scale may complicate its efforts to pay off debt.
The "asset-disposal plans, if they materialize, would help address its short-term liquidity," Moody's said. "However, the resultant substantial reduction in its scale and global reach would challenge its ability to reshape its business model and generate profit and cash flow to service the remaining debt."
Noble Group shares sank as much 28 Singapore cents to 29.5 cents, and closed at 39.5 cents, taking their decline this year to 77 percent. The 2020 bonds traded at 32.8 cents on the dollar after sinking to a record 32 cents on Wednesday, according to prices compiled by Bloomberg.
"We're seeing the wheels falling off here, and part of it is actually a little bit sad," Waters LLC founder Carson Block, who has shorted the company's shares, said during an interview on Bloomberg Television. "At the end of the day, liquidity is going to determine whether, and for how long, this company survives."
Not Enough?
Noble Group's liquidity headroom of about $1.2 billion at the end of March is insufficient to cover the $2.1 billion in debt due for the remainder of 2017 and first half of 2018, Moody's said. The headroom may have also narrowed after the second-quarter loss, it said.
After the close of trade on Wednesday, Noble Group said that it expects a loss of between $1.7 billion and $1.8 billion for the quarter to June, which follows a smaller loss in the first quarter. The company also announced the sale of the gas-and-power unit to rival Mercuria Energy Group for $248 million.
S&P Global Ratings also had concerns. Proceeds from the disposals may not be sufficient to mitigate losses and offset less favorable access to credit lines, Danny Huang, director of corporate ratings, said in a statement. There's "continuously deteriorating profitability and liquidity constraints," S&P said.
Noble Group still faces significant maturities, including $380 million of senior notes due March 2018 and a $1.1 billion revolving credit facility and term loan due May, according to a report from Fitch Ratings Ltd. last month. On Thursday, JPMorgan Chase & Co. highlighted the coupon payment due July 29.
Key Event
The sale of the North American gas-and-power businesses implies banks and counter-party support "could be getting limited" and because of that, the company is raising cash for liquidity, JPMorgan said. The coupon that's due is a "key near-term event to monitor," it said.
Before the profit warning, Jefferies LLC said it expected the weekend coupon payment to be made as its base case is that Noble Group does have enough cash, according to recent note. Both Noble Group's lenders and the company would not like to accelerate problems by not making it, Jefferies said.
Noble Group is expected to offer unsecured bondholders new secured bonds in exchange for a haircut of as much as 50 percent on the principal, according to CreditSights Inc. The trader is "out of large assets to sell" and more monetizations at similar terms to the Mercuria sale are unlikely, analyst Andy DeVries said in a note.
The loss in the June quarter largely stems from revaluing long-term coal contracts, whose valuation had been criticized by Iceberg Research, a group that first raised concerns more than two years ago. Excluding non-cash exceptionals, the adjusted net loss for the quarter will be $450 million to $500 million, while adjusted operating losses will be $250 million to $300 million.
"The offloading of its overseas units to focus on the Asian business could go some distance to improving the liquidity," Jingyi Pan, a Singapore-based market strategist at IG Asia Pte, said by email. "However, in the nearer term, its ability to handle debt obligations will be key."
— With assistance by David Yong, Javier Blas, Jake Ulick, and Sydney Maki
Before it's here, it's on the Bloomberg Terminal.
LEARN MORE