Nasdaq Shows Its Soft Spot Again as Quant Note Trips Selling Fit
By
Nasdaq 100 falls most in three weeks on valuation concern

Low volatility level should 'give pause' to stock managers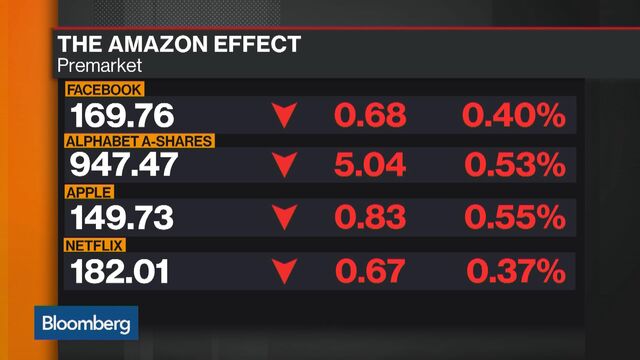 It happened again.
Out of nowhere Thursday afternoon, a convulsion of selling rattled U.S. stocks, with the biggest bite by far coming from megacap technology companies in the Nasdaq 100 Index. Losses came fast and furious right around noon, with the gauge losing a fast 2.4 percent in just over 90 minutes.
For traders, the trauma was reminiscent of other sudden tumbles in past months, most notably the afternoon swoon that knocked about 2.4 percent off the technology gauge on the similarly sleepy June 9. At least this time traders could point to at least one potential catalyst: a typically ominous note from JPMorgan Chase & Co. derivatives strategist Marko Kolanovic, who said the market's volatility drought could presage protracted histrionics.

"The fact that we are in a low-volatility environment isn't news for anyone, but stocks are trading at valuations where it doesn't take too much for traders to start unwinding their positions," said Walter Todd, the chief investment officer of Greenwood Capital Associates in South Carolina. "It only takes a click of a button."
The Standard & Poor's 500 Index's retreat of as much as 0.7 percent from Wednesday's record high came as Kolanovic, head of quantitative and derivatives strategy at JPMorgan, said volatility near or at record lows by a handful of measures should "give pause to equity managers." This came as the CBOE Volatility Index traded above 10 for the first time in 11 days, after finishing last week near a record low.
The losses in the tech sector were more significant, with the Nasdaq 100 Index dropping as much as 1.7 percent earlier in the day before ending the session down 0.6 percent, the biggest one-day decline in three weeks. Trading volume in options on the largest exchange-traded fund tracking the gauge about double the 20-day average, and volume in Nasdaq 100 E-mini futures was about twice the 90-day average.
Tech stocks in the S&P 500 Index sell for an average 18 times projected earnings, compared with a multiple of 7.8 for the broader gauge, after a 22 percent rally this year that was more than double the benchmark's advance. Thursday's losses were offset by rallies in other sectors, including telecommunications, which gained the most since 2009.
Analysts are still debating what caused the tech selloff in June. Today's rout also coincided with a failed merger between CA Inc. and BMC Software Inc. Private equity-backed BMC ended talks to acquire CA after struggling to obtain bank financing for the deal, according to a person familiar with the matter.
"Just looking back at history, a failed merger doesn't bode well for the market," said Ilya Feygin, senior strategist at WallachBeth Capital. "The news is one of the catalysts behind today's tech selloff."
CA fell 10 percent in the biggest decline in the Nasdaq 100 Index. Netflix Inc. and Nvidia Corp. each lost at least 3.3 percent. Amazon.com Inc. also bore some of the blame as it sank more than 3 percent from a fresh intraday record just hours before the online retailer reported a steep jump in quarterly expenses and gave a disappointing profit outlook. The stock has surged almost 40 percent this year, pushing its valuation past toward 200 times earnings.
Before it's here, it's on the Bloomberg Terminal.
LEARN MORE