Malone Adds $200 Million to His Fortune in a Day on Sirius, Charter
By
SiriusXM increases year-end estimate, grows paid subscribers

Charter shares up 6.4 percent, highest since January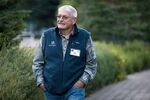 It's a good day to be John Malone.
Investments in Sirius XM Holdings Inc. and Charter Communications Inc. paid off for the Liberty Media Corp. chairman Thursday. Both companies released better-than-expected quarterly results that sent their shares skyward. The gains helped increase the cable-TV billionaire's net worth by $200 million to $9.4 billion at noon in New York, according to the Bloomberg Billionaires Index.
Since engineering the sale of cable business TCI to AT&T in 1998, Malone has spread his bets across media, telecommunications, sports and online businesses. His investments have attracted a following, including an exchange-traded fund from Gamco Investors Inc. that mimics his holdings. Warren Buffett's Berkshire Hathaway Inc. has taken stakes in several Malone-backed companies, including Sirius and Charter.
Sirius, the satellite-radio provider controlled by Malone's Liberty Media, climbed as much as 9.3 percent after reporting the strongest subscriber growth in a year. The New York-based company added 466,000 new paying customers, putting the company at over 32 million total subscribers. The company raised its forecasts for subscribers, revenue and earnings before interest, tax, depreciation and amortization.
In 2009, when Liberty Media invested $530 million in the company to save it from bankruptcy, shares were trading at 16 cents. This morning, they were trading for almost 37 times that price, at a high of $5.89.
Charter, in which Malone's Liberty Broadband Corp. has a 20 percent stake, lost 90,000 TV subscribers this quarter, roughly half of what analysts estimated. An increase in share buybacks and growth in broadband users also pleased investors, sending shares up as much as 6.4 percent, their highest since January.
When Malone's Liberty Media bought a 27 percent stake in Charter for $2.6 billion in 2013, Liberty paid $95.50 a share. Today, Charter shares were trading for as much as $370.96, almost quadruple the 2013 price.
Malone's other investments include the film distribution company Lions Gate Entertainment Corp. and the cable television network Discovery Communications Inc., which is close to a deal to acquire Scripps Networks Interactive Inc., according to people familiar with the matter.
— With assistance by Robert Lafranco
Before it's here, it's on the Bloomberg Terminal.
LEARN MORE