India Monsoon Rain Seen Close to Normal as El Nino Threat Fades
By
Monsoon rain resulting in higher crop sowing: Weather Office

Rainfall break likely for 7 to 10 days during the rainy season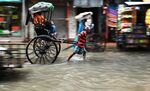 India's southwest monsoon that waters about half of the country's farmland is likely to be near normal this year even as the four-month rainy season may see a weak spell during the remaining two months, according to the country's weather forecaster.
Precipitation in the four-month rainy season will be close to 89 centimeters, a 50-year average, in the absence of El Nino, K. J. Ramesh, director general of India Meteorological Department, said. The agency had upgraded its forecast in June to 98 percent of the long-term average from 96 percent predicted in April. The weather office defines a monsoon as normal when cumulative rain during the period, which generally begins on June 1, falls between 96 percent and 104 percent of the long-term average.
The monsoon is critical to India's farmers as it accounts for more than 70 percent of the total annual rainfall and recharges water levels in reservoirs that help irrigate crops. The country recorded normal rainfall last year, after two consecutive years of drought, boosting food grain production to a record high. The prediction follows forecasters in the U.S. and Australia reducing the odds of an El Nino forming this year.
"The monsoon is fairly active so far and it hasn't taken a break yet," Ramesh said in an interview on Wednesday in New Delhi. Higher sowing of crops shows that the performance of the monsoon is very satisfactory, he said.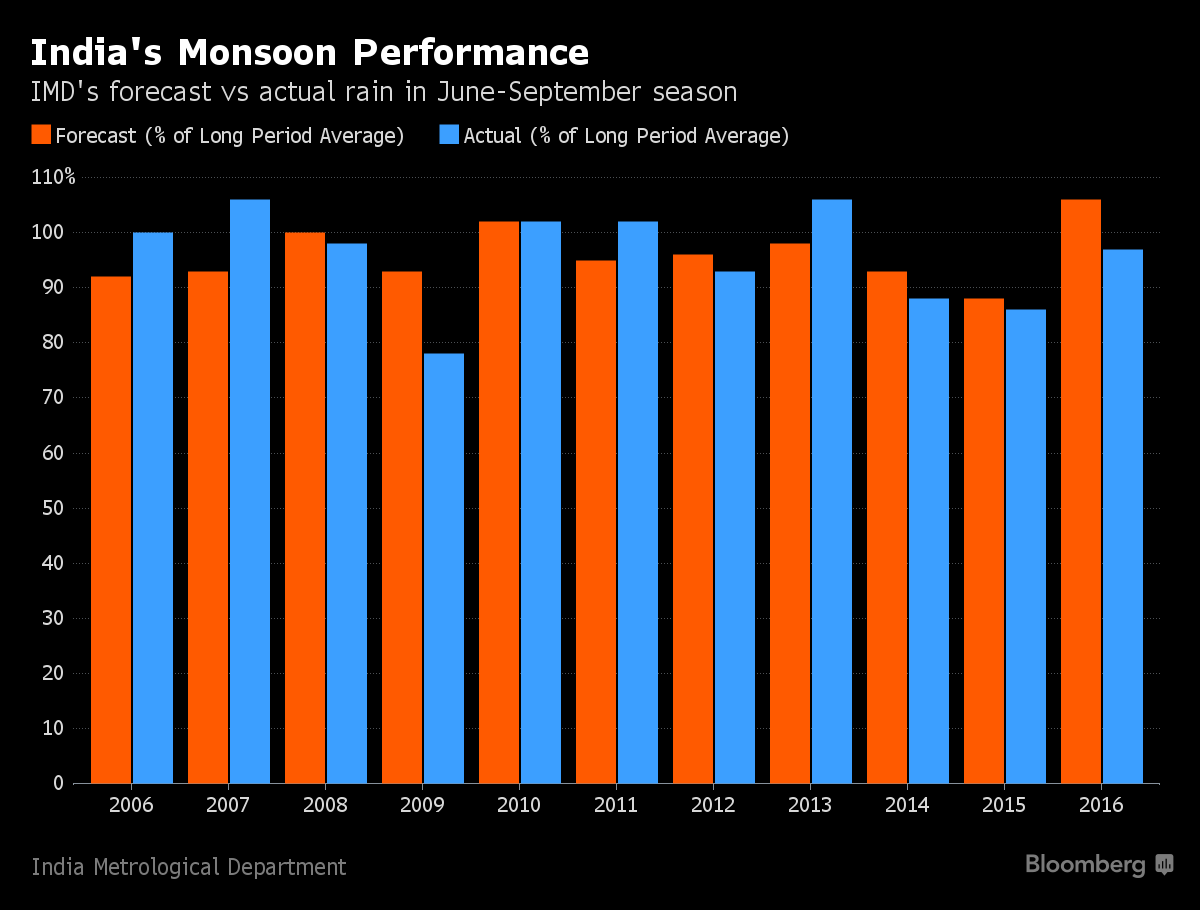 Indian farmers planted monsoon crops such as rice, pulses and cotton in 68.53 million hectares (169 million acres) as of July 21, up 1.8 percent from a year earlier, according to the agriculture ministry.
Monsoon Lull
"The monsoon could take a break definitely in August and some time in September which could last for about a week to 10 days," said Ramesh. "The weakening of monsoon is expected in the northern parts, while the peninsular region should get more rain."
Australia's Bureau of Meteorology said in June that El Nino's development has stalled and any event is likely to be weak. The U.S. last month lowered its odds for the weather pattern, which often brings dry weather to parts of Asia and Australia.
Rainfall in August is likely to be between 90 percent and 99 percent of the average, Ramesh said. Rain has been 5 percent above normal between June 1 and July 26, according to the department.
"Most of the rain so far is concentrated over the north, while peninsular India is not getting adequate rain," Ramesh said. "Some cereal crops will be affected in southern region."
The weather department's monsoon prediction compares with a March forecast of 95 percent from Skymet Weather Services Pvt., a private forecaster. Rain was 97 percent of a 50-year average last year, meeting the department's definition of a normal monsoon. Showers were 14 percent below the average in 2015 and 12 percent below the average in 2014, data from the India Meteorological Department show.
"About 15 percent to 20 percent area will still remain rain deficient even if monsoon is normal or above normal and that's in-built characteristics of monsoon," Ramesh said.
Before it's here, it's on the Bloomberg Terminal.
LEARN MORE