FTSE Russell's Dual-Class Stock Limits Would Bar Snap Shares
By and
Proposal says minimum 5% of voting rights should be for public

FTSE Russell's suggestion comes after industry consultation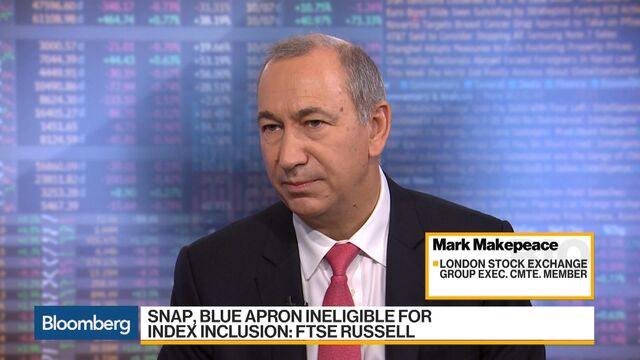 One of the world's largest index compilers has told companies that don't give enough of a voice to ordinary shareholders that they may be booted from its benchmarks.
FTSE Russell, a unit of London Stock Exchange Group Plc, said that only stocks with at least 5 percent of voting rights in the hands of public shareholders will be eligible for inclusion in its indexes. Social media app maker Snap Inc., market-maker Virtu Financial Inc. and Hyatt Hotels Corp. would be among the 36 companies affected, according to a statement Wednesday.
The move further flames the debate over whether so-called dual-class shares, which give outsized voting power to founders and executives, are appropriate for public markets. FTSE rivals MSCI Inc. and S&P Dow Jones Indices are also looking at how to handle dual-class shares in their benchmarks.
"When we think about who our clients are, they're the big institutional investors of the world," FTSE Russell Chief Executive Officer Mark Makepeace said in a Bloomberg Television interview on Thursday. "When you have companies come to the market with no voting rights, it's very difficult for these shareholders to have an influence. The governance issues have a real impact on their risks."
The proposals, subject to further feedback, are due to come into effect in September for new entrants and 2022 for existing constituents.
"This has got a vast impact and is a strong stance against dual-class shares with very low voting rights," said Lan Luh Luh, a law and finance associate professor at the National University of Singapore. "It'll discourage companies like Snap from trying to push investor limits. The market is clearly pushing back."
Facebook Inc. has said the structure allows its founder and chief executive officer Mark Zuckerberg to focus on long-term goals instead of being distracted by the short-term pressures that come with being a public company.
Henry Fernandez, CEO of MSCI, has also said that clients were voicing concerns about the use of dual classes. Snap's structure, which denies public shareholders any voting rights, has fueled the debate, he said in a Bloomberg Television interview this month.
"What we will stop is the one or two companies, the handful of companies, who are coming with no voting rights, and shareholders have no say," Makepeace said today. "Five percent gives them a voice. If we raise it above 5 percent we then start to have a real impact on the market. We think it's a beginning."
Sixty-eight percent of respondents to the FTSE Russell consultation said that a minimum hurdle for percentage of voting rights in public hands should be imposed. Of those respondents, nearly one-fourth thought the rate should be set at 5 percent, while just over half of respondents thought it should be set at 25 percent.
A FTSE Russell spokesman said by email that the company plans to review the threshold on an annual basis.
The FTSE Russell decision comes as exchanges in Hong Kong, Singapore and London discuss rule changes that would make it easier for firms with such structures to list. The three exchanges are keen to attract red-hot technology listings that usually go to the bourses in New York, where dual-classes have been allowed for decades.
Hong Kong Exchanges & Clearing Ltd. has announced plans to include dual class shares, and said 33 mainland Chinese companies worth a combined $561 billion were listed in the U.S. with weighted voting stock. In Singapore, the government has supported a proposal to allow dual-class shares as part of a package to drive economic growth. The U.K. regulator suggested loosening its restrictions in a February discussion paper on the effectiveness of its markets.
— With assistance by Jonathan Ferro
Before it's here, it's on the Bloomberg Terminal.
LEARN MORE