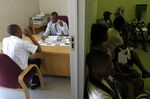 The South African Constitution's Bill of Rights says that everyone has the right to have access to health care services. Yet more than 80 percent of the nation's population has no medical insurance and depend on a public health system with too few doctors and dilapidated facilities, resulting in treatment delays. So the government proposed a National Health Insurance plan in 2009 that would cover all its citizens. But the policy blueprint has taken years to move forward to the planning stage and will take almost another decade to get into full swing. And there probably won't be enough money to pay for it. It's unclear how much longer citizens will wait for a cure.
1. What's the current public health system like?
The country's poorest people have access to free services and medicines at about 4,200 public clinics, but these facilities have been badly managed and are hampered by broken equipment, medicine shortages and insufficient numbers of staff. Business Day newspaper found that of the 1,427 facilities inspected in the four years through March 2016, only 6 percent of them passed their inspections on criteria ranging from drug availability to infection control. South Africa's doctor-patient ratio is 0.8 per 1,000, lower than Brazil, Russia, India and China, Egypt and Mexico. The biggest reason cited by doctors leaving South Africa's public sector is the poor working conditions.
2. What's the plan to fix this?
The National Health Insurance plan's goal is to give all South Africans access to health care, with the government buying services from public and private providers for the country's almost 55 million people. The cost is projected to be 256 billion rand ($20 billion) when it's due to start in 2026. Funding is supposed to come from higher taxes and the amalgamation of government-linked medical-insurance plans, which will be folded into an NHI Fund. While the plan says the current system needs to be reorganized, it doesn't outline how it will better distribute the nation's doctors or train new ones. Nor does it contain proposals on how to overcome shortages and poor administration.
3. So what's taking so long?
It's a mammoth undertaking. The policy-formulation process has been slow, and the Department of Health wanted to assess the outcomes of a five-year voluntary pilot program that was run in about 11 districts from 2012. Also, about 15 laws will need to change to enable the NHI, and that involves drafting new bills and public hearings. But the ruling African National Congress is facing a party election in December and a national vote in 2019, so it's under pressure to assure voters that it's trying to improve the health-care system.
4. Who's backing the plan?
Hospital companies and insurers such as Life Healthcare Group Ltd., MMI Holdings Ltd. and Discovery Ltd. support the plan in principle, but are concerned by its lack of detail.
5. Who's worried about it?
Some private insurers. If everyone is forced to join the NHI, many companies will be reduced to offering coverage to fill gaps in the public services. And if the NHI ends up being administered by the state or just one or two companies, private insurers left out in the cold could lose even more revenue, and health advocates fear that quality at the best hospitals could suffer. The roughly 20 percent of the population who can afford private insurance collectively spend more on the 83 medical plans available than the government now spends on health. This has allowed private hospitals to flourish, providing care so good that wealthy people in other African countries sometimes come to South Africa in search of treatment. The main opposition Democratic Alliance says the NHI proposals are "not only dangerous but are unnecessary if the public health systems in all nine provinces can be managed effectively."

6. What about taxpayers?
Most aren't going to be happy. The average personal income-tax rate could rise to 25.4 percent by 2027 from 21.7 percent in 2017. And the government would remove tax credits for private medical insurance. There have also been proposals to raise the value-added tax and add a surcharge on the business payroll tax.
7. What needs to change?
Even with the tax increases, the economy isn't growing fast enough to cover the NHI's costs. The National Treasury's five-year-old models for the plan projected annual economic growth of 3.5 percent, a rate the nation hasn't achieved since 2011. The plan hasn't detailed the roles for private medical insurers, which provide thousands of jobs. The state will buy some services from private hospitals, but there's little clarity on the contribution these hospitals will make. Ditto for private pharmacies.
8. Does the government have the ability to pull this off?
Probably not. The national airline is crippled by losses, the state-owned electricity utility's board has been rocked by corruption allegations and the mining industry is in chaos due to unclear and investor-unfriendly policies. Social grants for more than 17 million people were under threat this year after a government department failed to set up new payment channels. South Africa's foreign-currency debt has been cut to junk and unemployment is at 28 percent. And NHI pilot programs have already stumbled.
9. So what happens next?
Things are looking gloomy for changes any time soon in the nation's health care system. The NHI start date is supposed to be 2026, but the country will need to add at least 10 years to that to make legislative changes required to enable it, said Neil Kirby, a director at Werksmans Attorneys. In that time, the ANC, which is fading in popularity, may lose national elections and the economy may worsen. Without funding and political will, the NHI may not be implemented in its current form. If the ANC clings to power and the economy stages a recovery, an amended insurance plan is likely to go ahead.
The Reference Shelf
Before it's here, it's on the Bloomberg Terminal.
LEARN MORE