Evercore's CEO Says He'll Wait Instead of Hiring B+ Talent
By
Hiring a B+ 'isn't going to move the needle,' Schlosstein says

Better to wait for an A+ banker, CEO tells analysts on call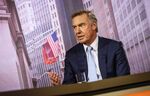 Evercore Partners Inc. Chief Executive Officer Ralph Schlosstein said he'd rather have vacancies than bring in bankers who aren't in the very top tier.
"Hiring a B+ really isn't going to move the needle in terms of revenues," Schlosstein said Thursday in a conference call discussing second-quarter results with analysts. "We learned that from experience."
Boutique bankers are highlighting their staffing strategies as they seek to attract clients, woo potential recruits and impress investors. Ken Moelis, the CEO of Moelis & Co., dismissed the value of hiring big-name bankers, saying this week it's often better to develop younger, hungrier dealmakers. Evercore has brought on high-paid industry titans, including Chairman John S. Weinberg and other veterans of Goldman Sachs Group Inc.
Unlike the Wall Street giants that are expected to have groups that offer expertise in every industry, Evercore can afford to have some gaps, Schlosstein said. The CEO has long said his goal is to make his investment bank the "most elite" independent advisory firm in the world.
"What we do is not easy, we have to find a team that can actually compete really effectively using only their ideas, their intellectual capital and their relationships," he said. "And that's a very limited number of people."
Evercore last month brought on Paul Stefanick, a former lead dealmaker at Deutsche Bank AG, as part of the management team to help build out its industrials group. Schlosstein said he hasn't had as much luck finding talent to focus on consumer companies.
"It's damn frustrating to be sitting here talking about consumer for the eighth consecutive year," he said. "If we can't find an A+ or an A, we wait."
Evercore climbed 90 cents to $79.50 at 10:09 a.m. in New York after posting second-quarter profit that beat analysts' estimates. The company has gained 16 percent this year. That compares with a rally of more than 20 percent at Moelis. Both boutiques are beating the S&P 500 Index, which is up 11 percent since Dec. 31.
— With assistance by Natasha Rausch
Before it's here, it's on the Bloomberg Terminal.
LEARN MORE