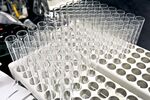 If at first you don't succeed, divest a bunch of assets and try again.
This week, Eli Lilly & Co. and GlaxoSmithKline PLC both announced earnings that exceeded analyst estimates. But their share prices didn't benefit, as both also announced revamps of their research divisions, acknowledging the long-term growth challenges they face.
Both firms plan to either sell or stop investing in several drugs, narrowing their focus to assets with the greatest commercial potential. These are smart moves; neither firm has exactly covered itself in research glory lately. And a willingness to cut losses is too rare in the industry. But the road to R&D recovery is long and bumpy. 

Both firms actually have a potentially promising crop of newer drugs on the market and are roughly in the middle of the big-pharma pack in terms of analyst sales expectations for drugs in the final development stages. 

But all is not as rosy as it seems.
Glaxo's newer drugs are heavily concentrated in HIV -- where Gilead Sciences Inc. is a tough competitor -- and respiratory diseases, where cheaper generic versions of Glaxo's own Advair will soon hurt sales. Tanzeum, a diabetes medicine approved by the FDA just three years ago, is being pulled from the market due to disappointing sales.
As for Eli Lilly, most of its new medicines face competing drugs from other large pharma firms, some of which are far more established in their respective markets. One of Lilly's most promising medicines, the inflammation drug Olumiant, will likely reach the U.S. market far later than expected because the FDA wants the firm to run a new trial. Analysts' 2021 sales estimates for Olumiant have been nearly halved since the news of the delay emerged in April, but may still be too optimistic.
Both companies have also recently suffered some big and expensive research failures. That doesn't inspire much confidence in their earlier-stage drug candidates -- a problem the firms are acknowledging, to a certain extent, by putting a bunch of those assets on the block. 
The traditional big-pharma solution to these woes would be to go out and buy promising medicines and shepherd them to market. But partly because of their research struggles, neither of these firms is exactly swimming in cash, especially relative to other large pharma peers. And free cash flow will likely erode in the years ahead, as sales and prices decline for their older drugs. Lilly and GSK carry $10 and $25 billion in debt, respectively, and are committed to paying dividends.

Potential M&A targets with drugs close to market tend to be expensive. Both Lilly and Glaxo will have a tough time competing for such deals. Cheaper targets, meanwhile, will come with far riskier, early stage drugs.
For both companies, the ingredients for an R&D revamp will have to come either from within or on the cheap. And both will be trying to accomplish this under new leadership just finding its legs. The risk of failure is high, and the time horizon may be longer than some investors expect.
It's great these drugmakers are ripping off their R&D Band-Aids, but the underlying wounds will take a long time to heal.
Before it's here, it's on the Bloomberg Terminal.
LEARN MORE