Daiwa Quarterly Profit Falls 21% as Trading Income Declines
By
Joins Wall Street banks in suffering from fixed-income slump

Japanese brokerage to buy boutique U.S. mergers advisory firms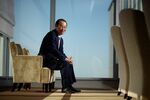 Daiwa Securities Group Inc.'s first-quarter profit fell 21 percent as a slump in fixed-income trading overshadowed a rebound in brokerage commissions.
Net income dropped to 19.4 billion yen ($175 million) in the three months ended June 30 from 24.6 billion yen a year earlier, Japan's second-biggest brokerage said in a statement on Thursday.
Daiwa joins Wall Street banks in suffering from moribund fixed-income trading in the period. Like larger competitor Nomura Holdings Inc., which reports Friday, the Tokyo-based firm is counting on Japan's stock-market rebound to help revive its domestic retail business after returning overseas operations to profit last fiscal year. 
Under new Chief Executive Officer Seiji Nakata, Daiwa is renewing an expansion abroad. The firm earlier Thursday announced plans to buy two U.S. boutique investment banks to boost its mergers and acquisitions advisory business in the largest market for dealmaking.
Here are key figures from the results:
Revenue rose 5.1 percent from a year earlier to 159.7 billion yen
Brokerage commissions climbed 17 percent to 16.2 billion yen
Trading profit slid 28 percent to 24.1 billion yen
Underwriting fees increased to 5.7 billion yen from 5.4 billion yen
Pretax profit from abroad rose to 1.7 billion yen from 1.4 billion yen
The Nikkei 225 Stock Average exceeded 20,000 during the quarter for the first time in 18 months as Japan's economic recovery gained momentum, spurring the increase in brokerage commissions. The stock gauge has jumped 20 percent over the past year, and Daiwa shares have gained 14 percent.
Boutique Buys
Daiwa agreed to buy Baltimore-based Signal Hill Holdings LLC and increase its stake in New York-based Sagent Advisors. It will pay more than 10 billion yen for the firms, which have about 100 bankers, spokesman Hiroki Aoyama said. Nomura is also seeking to boost mergers advice in the U.S., although it's doing so through hiring rather than acquisitions.
"Expanding our company's M&A advisory business continues to be core to our strategic growth," Nakata, who became CEO in April, said in a statement. The acquisitions will probably start contributing to profit in two to three years, Chief Financial Officer Mikita Komatsu said at a briefing.
Nakata, 57, faces tasks including establishing a unit in Frankfurt to continue to serve clients in the European Union after the U.K. leaves the bloc. In an interview in May, he pledged to hire equity analysts to strengthen its research operation ahead of European rules that require firms to charge for analysis separately from trading commissions.
Daiwa's trading slump wasn't shared by smaller rival SMBC Nikko Securities Inc. The brokerage unit of Sumitomo Mitsui Financial Group Inc. earlier this week reported a 34 percent increase in first-quarter net income to 14.5 billion yen as brokerage commissions and trading profit rose.
Before it's here, it's on the Bloomberg Terminal.
LEARN MORE