ConEd Says Smart Power Meters Are the Answer to New York's Subway Woes
By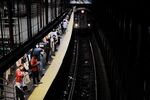 New York's Metropolitan Transportation Authority, already grappling with more frequent subway delays, plans to speed up the roll out of smart meters on the country's most heavily trafficked system to help identify power failures faster. 
By the middle of March, the city's utility owner Consolidated Edison Inc. will install 2,300 meters and related infrastructure across a system that stretches 665 miles (1,070 kilometers) in five boroughs, said Michael Clendenin, a spokesman for the utility. ConEd, which originally planned to install smart meters across its entire service area over five years, will now deploy the devices in subways first. 
More New Yorkers are riding the subway to work each day than ever before as delays from signal malfunctions slow train speeds to a crawl and test the patience of commuters on a daily basis. On Thursday, Governor Cuomo said that companies may soon be able to adopt stations and win the right to name them with a $600,000 donation.
"With this technology we will know instantly if there is a problem," Clendenin said in a telephone interview. 
The MTA didn't immediately respond to a request seeing comment.
The push to make the power grid supporting the subway system smarter comes as delays have become more frequent, exceeding the MTA's own projections. During the first five months of this year, subways were on time 62.9 percent of the time compared with 68.3 percent during the same period in 2016. MTA's target is 75 percent, according to it's website.
Last year on an average weekday, 5.7 million people crowded onto the city's subway system, the most since 1948, according to the MTA's website. Total ridership was 1.76 billion, making it the seventh most used system in the world.
Before it's here, it's on the Bloomberg Terminal.
LEARN MORE