politics
Boris Johnson Puts on Show: Brexit Paranoia Like Millennium Bug
By and
Britain will do a 'great deal,' says Johnson in Sydney speech

Johnson in Australia for three-day visit to strengthen ties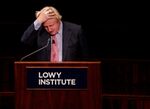 Oops, he did it again. U.K. Foreign Secretary Boris Johnson joked how he had come to Australia without causing a major diplomatic incident before regaling his audience with the kind of tongue-in-cheek performance that tends to land him in political trouble.
Johnson was introduced at Sydney Town Hall as the man responsible for Brexit. And even if that divorce is mired in complex details and delays, Britain's top diplomat compared concerns about the Britain's withdrawal from the European Union to what turned out to be overblown and unjustified fears in 2000 about a superbug taking down computer systems.
Read more about the world according to Boris Johnson aka 'BoJo'
Boris -- as he's popularly known as -- began with an extended discourse about what would have happened if Australia had joined the EU in the 1970s, before moving on to quote lines from the 1981 Australian pop hit 'Down Under' and riffing about boomerangs made in Leighton Buzzard, an English town. The reason why his words draw headlines are because he's touted as one of the favorites to take over the mantle of prime minister during Brexit.
Johnson insisted he was "absolutely certain we are going to do a brilliant job of it" -- it being Brexit -- and that difficulties around the future trading relationship and customs union were "being turned into the equivalent of the millennium bug." The optimism does not reflect the reality back home.
Real World
In London, premier Theresa May is stumbling from crisis to crisis after losing her parliamentary majority in an election gamble she lost. Speculation about her future has not diminished even with lawmakers on their summer vacation. Her director of strategy has resigned, the latest in a series of high-profile exits, and in Brussels the chief negotiator has said progress is slow and key decisions may well have to be postponed to December.
Johnson was one of the key figures in the 'Leave' campaign and his late entry marked a watershed moment. The former London mayor has a string of gaffes to his name -- including a 2006 Telegraph column in which he likened the Conservative party to "Papua New Guinea-style orgies of cannibalism and chief-killing." While makes for an unlikely diplomat, he serves an important role in lending a weakened May legitimacy over her Brexit policy.
Is Boris Johnson a Liability Theresa May Can't Do Without?
"Boris is also a historically significant figure due to his out-sized role in British politics over the past few years," said Michael Fullilove, executive Director of the Lowy Institute, in introducing the 53-year-old Conservative.
"If Boris had not decided to support Brexit last year, I would suggest the United Kingdom would not be leaving the European Union. Politicians always say they want to make a difference. Boris has already done so whether for good or ill in the case of Europe, of course, remains a topic of fierce debate."
Fans of Boris would not have been disappointed by his performance, even amid some awkward chuckles at his lapses into political incorrectness. When it comes to selling Brexit abroad or laying the groundwork for future trade deals, his style has been to remain upbeat.
People have become fixated by the idea that "lorries will stop at Dover, plasma supplies will be cut off," said Johnson in his speech. "It's just not true. We will do a great deal."
Before it's here, it's on the Bloomberg Terminal.
LEARN MORE