Barnier Warns of Poor Progress in Brexit Talks
By and
Negotiations seen unlikely to progress to trade in October

EU says 'can't speculate' on timetable of discussions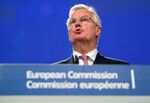 The slow pace of Brexit negotiations means that sufficient progress is unlikely to be achieved by October to allow for discussions to start on the future relationship between the European Union and Britain, the bloc's chief negotiator said, according to three people familiar with the matter.
Michel Barnier made the comments in Brussels on Wednesday in a meeting with ambassadors from the other 27 EU governments, according to the people, who requested anonymity because the talks were private. Barnier told attendants that a potential solution would be an extension of the first stage of the talks for a few months, according to one of the people.
Barnier didn't completely exclude that an agreement on the terms of withdrawal will be reached by October, depending on internal political developments in the U.K., including the Conservative party conference and the repeal bill, the people said. Talks on the future EU-U.K. relations, including a free-trade agreement, can't begin until EU leaders decide that "sufficient progress" has been made on issues such as citizens' rights and the exit bill.
"Sufficient progress had to be made on the conditions of the exit, on the basis of the principles announced by the EU Council, before the opening of talks to define the future frame of the relationship between the U.K. and the EU," French Finance Minister Bruno Le Maire said in a statement after meeting U.K. Chancellor Philip Hammond in Paris.
The earliest that determination can be made is at a planned EU summit in October. Delays in the negotiations increase the risk of Britain leaving the bloc in March 2019 without a deal.
After the first two rounds of negotiations, the Brexit talks have stalled over the exit bill and guaranteeing citizens' rights, in particular the role of the European Court of Justice in protecting them. U.K. Prime Minister Theresa May has pledged that Brexit will free the country from European courts while Barnier says only the ECJ can provide adequate protection to EU residents living in Britain.
'Limited Progress'
A spokesman for Barnier declined to comment. 
The second round of Brexit talks ended on July 20 with Barnier telling the U.K. to come back next month with more detail. The next round of negotiations is scheduled for the week of Aug. 28. EU leaders will meet in Brussels on Oct. 19, then again on Dec. 14.
Acknowledging that "so far limited progress has been achieved in the negotiations," the European Commission, the EU executive, said the bloc's negotiating team will "be available every day throughout the coming weeks" to try to advance the talks.
"I can't beyond that speculate on any timetable because that will depend on the pace of the progress being made," commission spokeswoman Mina Andreeva told reporters in Brussels on Thursday.
Before it's here, it's on the Bloomberg Terminal.
LEARN MORE