The Man Most Likely to Replace Brazil's President Says He Doesn't Want the Job
By and
Chamber Speaker Rodrigo Maia is next in line if Temer falls

His mom texts him 'not to conspire' against the president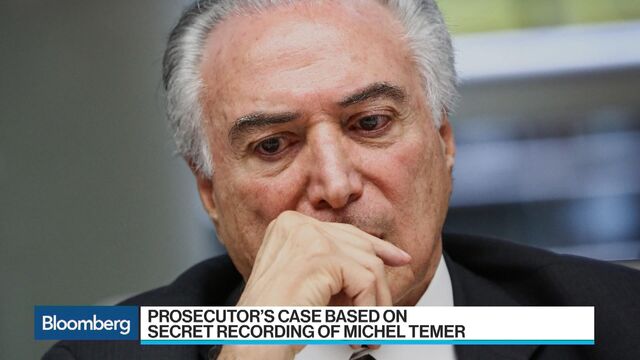 Rodrigo Maia keeps denying that he's plotting to replace Brazil's embattled president. His own mother doesn't quite believe him.
As speaker of the Chamber of Deputies, Maia is, in fact, first in line to replace Michel Temer, should Temer go the way of his ousted predecessor, Dilma Rousseff. Next week, Maia will preside over a vote on whether Temer will be tried on corruption charges. Maia also has the power to approve requests -- of which there are several -- to initiate impeachment proceedings.
That he has refused to do so hasn't squelched speculation in the National Congress and the media that he wants to dethrone Temer. Neither have his own declarations, nor the fact that his wife's stepfather, Wellington Moreira Franco, is of one of Temer's closest aides. The speaker remains the unlikely center of political attention in Latin America's largest country.
"It's a question of being in the right place at the right time," said Ivan Valente, a lawmaker from the Socialism and Liberty Party. Circumstances can give you star power, "even if you are someone without much presence, charisma or support" among the electorate.
Indeed, Maia, 47, might not at first glance seem to be presidential material. Soft-spoken -- to the point of coming off as shy to some -- he occasionally displays a nervous tick. He's known for flashes of bad temper, such as when he cursed at one deputy and shoved another during a protest against a labor-reform bill. Asked to name his son's big challenge, Cesar Maia, a former mayor of Rio de Janeiro, had a swift answer: "Controlling his emotions."
Some wonder if the speaker has the staying power of a veteran like Temer, 76, who is still hanging on despite mounting opposition among lawmakers and single-digit rankings in national opinion polls. "Maia doesn't have the chutzpah or the negotiating skills of Temer," said Jason Vieira, chief economist of Infinity Asset Management. "I'm not sure another politician would be able to survive a situation like this."
Polarized Environment
For all that, Maia has fans in the lower house, where he was first elected to his post by a wide margin a year ago. While his habit of repeatedly changing his mind about voting schedules has infuriated some, allowing business to pile up can be shrewd, said Miro Teixeira, a longtime lawmaker from Rede. "Delay keeps the interested parties uneasy, and they start to seek him out. That way, he offers favors to people."
In a polarized political environment, with around 26 parties in the lower house, Maia's accessibility to legislators from across the ideological spectrum is a powerful asset. That's taken a toll, though, Maia said in a GloboNews interview: Eating two or three breakfasts, lunches and dinners each day with different deputies has expanded his waistline.
Maia has been transformed in other ways in his time as speaker, said Julio Delgado, a lawmaker from the Brazilian Socialist Party. "Rodrigo used to be very introverted when it came to dealing with deputies, but his style has really changed." Now, "he's seeing the possibility of becoming president."
Well, maybe one day. "I can see myself as a candidate in two or three elections' time," he told GloboNews. "But in the short-term, being speaker gives me the chance of fulfilling dreams that I never thought I would realize." Maia declined to be interviewed for this story.
Political Realities
Socially conservative, a committed free-marketeer and member of the right-wing Democratas party, Maia is an enthusiastic supporter of the policies put forth by Temer, though perhaps not clearly enough of Temer himself. In a recent Twitter outburst, the speaker went on about the importance of the president's agenda without mentioning the president, which didn't go unnoticed by those questioning his loyalty.
That includes his mom, who frequently sends him text messages telling him "not to conspire" against Temer, Maia told GloboNews.
"On my part there has been no attempt to jeopardize President Michel Temer," Maia said. But he also said that considering the political realities, it's more important to be seen an objective house leader than a Temer ally.
For what it's worth, some opposition legislators interested in taking Temer down said they don't see Maia actively angling to move into the presidential palace. "If he'd been maneuvering, he'd already be in the president's place," said Carlos Zarattini of the Workers' Party.
Carwash Probe
Born in Santiago, Chile, where his father was living in self-imposed exile during Brazil's military dictatorship, Maia attended college in Rio. After a brief career in banking, he followed his father into politics and is in his fifth term as a deputy representing the state of Rio. The younger Maia hasn't proved quite as popular as his dad. Cesar Maia was elected mayor of Rio de Janeiro three times; the son's run for the position in 2012 ended badly when he garnered just under 3 percent of the vote.
Temer's fate will be decided by the lower house, which has the power to decide whether he should be tried on charges filed by the country's chief prosecutor that center on what's called passive corruption, including taking a bribe via an intermediary. He has denied wrongdoing.
The charge was leveled in connection with the Operation Carwash probe that has taken down many members of the business and political elite. Maia has been caught up in Carwash too. He is one of dozens of high-ranking government officials and senior politicians now under investigation for allegedly taking bribes and illegal campaign contributions after Supreme Court Judge Edson Fachin authorized new probes in May. Maia has said he will easily prove his innocence. 
Before it's here, it's on the Bloomberg Terminal.
LEARN MORE