Yellen's Fed Sitting Pretty in Push for U.S. Growth, Memani Says
By and
Markets will keep gaining until meaningful rate hikes, he says

OppenheimerFunds CIO comments after Fed maintains rates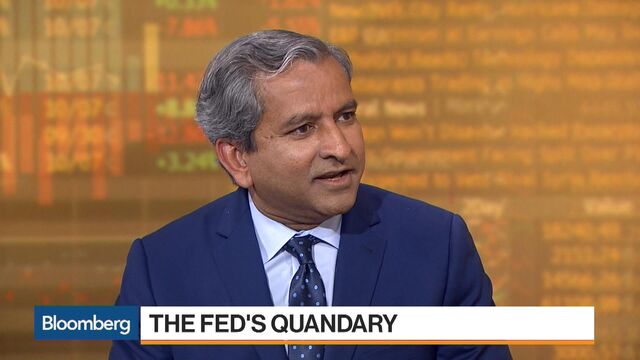 Krishna Memani, who oversees $240 billion as chief investment officer of OppenheimerFunds Inc., said U.S. central bankers are in a favorable position because of data showing the economy has been expanding without stoking excessive inflation.
"They're sitting really pretty at the moment," Memani said Wednesday in an interview on Bloomberg Television. "It's actually working out much better than planned."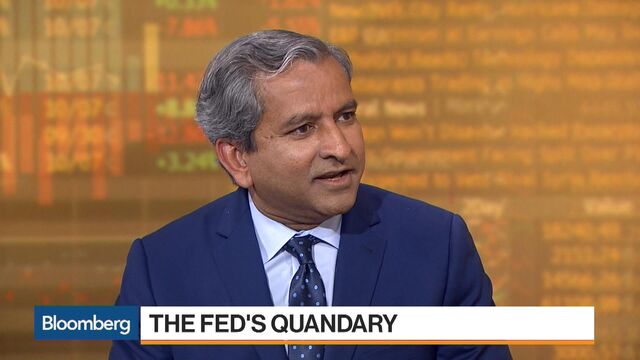 The U.S. Federal Reserve, led by Chair Janet Yellen, left the benchmark policy rate unchanged Wednesday at 1 percent to 1.25 percent. The central bank said in a statement that a period of weak inflation continues and that it would begin running off a $4.5 trillion balance sheet "relatively soon."
The S&P 500 set another record Wednesday, and has advanced 11 percent this year, extending a rally that began in 2009. Yellen said this month that she tries to avoid giving her opinions on market values after previously saying that asset prices looked "somewhat rich." Memani was asked in the interview about what signal central bankers will send on asset prices that have continued to climb.
"They're worried about it but, at the same time, they're not so worried about it they would tighten policy, despite low inflation," Memani said. "I think the markets will continue to climb higher until rates rise meaningfully, and I don't think that's happening any time soon."
OppenheimerFunds is a subsidiary of Massachusetts Mutual Life Insurance Co. Memani's operation invests on behalf of institutional clients and offers mutual funds and exchange-traded funds.
Before it's here, it's on the Bloomberg Terminal.
LEARN MORE