business
Your Evening Briefing
Bloomberg News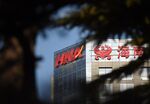 The evening briefing will soon be available in your inbox every day. To be among the first to get it, sign up here.

Of all the mysteries surrounding HNA, one of China's most acquisitive companies, none is more puzzling than the 29 percent stake held by Guan Jun — a little-known investor who became the biggest shareholder in a sprawling global conglomerate with $150 billion of assets. While details of the company's ownership have trickled out this week — notably that two charities own a controlling stake in the dealmaker — fresh questions have emerged at a time when the company is facing heightened regulatory scrutiny in both the U.S. and China. But who's in charge of the charities? And why did HNA executives park their shares with Guan? If you're fresh to the tangled tale of this curious company, our Q&A may help.
'Day from hell' looms as companies worth  $3 trillion report earnings. It'll be double espressos at the ready for European analysts and fund managers tomorrow, as one of the busiest earnings days in years kicks off. Companies worth a combined $3 trillion will be posting their results, which could create volatility in share prices as fund managers struggle to digest broker reports on whether to keep or dump shares. One more shot please, barista!
Bankers are ditching their fat salaries to chase digital currency riches. From Hong Kong and Beijing to London, accomplished financiers are abandoning lucrative careers to plunge into the murky world of initial coin offerings, a way to amass quick money by selling digital tokens to investors sans banks or regulators. But they'll want to be careful, the co-founder of the ethereum network says ICOs are a "ticking time-bomb."
Nintendo's profits shatter expectations. The gaming company's quarterly profit of 16.2 billion yen ($145 million) topped analysts' average estimates of 10.6 billion yen, as more people snapped up its Switch gaming machine. The result has boosted expectations for brisk sales during the holiday shopping period. Nintendo is betting the Switch will fuel a new era of growth as more people embrace its dual role as a gaming device that can be used at home or on the go.
Australia's history as a land of immigrants is jeopardizing lawmakers' careers. Resources Minister Matt Canavan resigned from the Cabinet on Tuesday after his mother revealed she had successfully applied for Italian citizenship on his behalf in 2006. That could put him in breach of Australia's constitution, bringing down a rising star in Malcolm Turnbull's government. "I had no knowledge that I myself had become an Italian citizen," said Canavan, who is awaiting a High Court ruling on the issue.
Demand for exotic flavored Kit Kats is so high Nestle's building a new factory. Wasabi, green tea and sake aren't just foods in Japan, they're also a few of the flavors of Kit Kats on offer. While the U.K. and the U.S. are content with the traditional milk chocolate four-finger snack, in Japan the Kit Kat has been available in more than 300 flavors during the years. They're so popular among tourists that Nestle is having to build its first Kit Kat factory in 26 years to meet demand.
The best airport in the world just got better. From robot cleaners stalking the hallways to the automated check-in enhanced by facial recognition software, the fourth terminal at Singapore's Changi Airport — already considered the world's best flight hub —  is soon to open. Take a look inside here before the crowds descend.

Before it's here, it's on the Bloomberg Terminal.
LEARN MORE