politics
Rajoy Brushes Off Lawyer's Attacks in Spanish Corruption Trial
By
Prime minister testifies as witness in first Barcenas case

Former party treasurer accused of running bribery ring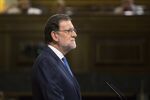 Prime Minister Mariano Rajoy batted away questions from lawyers prosecuting his former party colleagues as they tried to tie him in to an alleged bribery ring run from the group's headquarters.
Rajoy said that he'd never had anything to do with party finances, despite running four election campaigns and serving as president since 2004. He insisted that he never knew anything about alleged cash payments to party officials.

"There was a clear and sharp separation between the political side and the financing," the premier said. "My responsibilities are political, not the accounts."
Rajoy is the first sitting prime minister of Spain's democratic era to give evidence in a criminal trial. Thirty-seven people are accused of running a bribery ring to help fund operations of Rajoy's People's Party, including former Treasurer Luis Barcenas, who has pleaded innocent and opted not to attend the session. The prime minister had asked to appear via teleconference, saying he was too busy to attend the courtroom, but the judges insisted he appear in person.
The prosecution lawyer Mariano Benitez de Lugo ran afoul of the judge, expressing his frustration as questions were ruled ineligible. Meanwhile Rajoy grew in confidence, chuckling to himself and occasionally goading his interrogator. "That's not exactly a brilliant deduction," he said at one point.
Chauffeurs and Vacations
The hearing offered an insight into the lifestyle of senior PP officials during Spain's boom years. Wednesday's case is focusing on the period between 1999 and 2005, leading up to and immediately following Rajoy's appointment as party leader in 2004. During that time, Francisco Correa, an events organizer, allegedly created a network of companies to channel kickbacks from firms awarded public contracts by PP officials. Correa also pleaded innocent.
Rajoy said that the party had paid for his family to take a holiday in the Canary Islands after one election defeat, while he himself had allowed Barcenas to retain a party chauffeur and an office at the group's headquarters after he left his post. "It seemed reasonable to us," he said.
The Barcenas case is the most comprehensive of more than two dozen investigations involving current or former PP officials moving through the courts as Spain comes to terms with the corruption that spread among its elite during the economy boom around the turn of the century. Former Deputy Prime Minister Rodrigo Rato and the ex-presidents of Madrid and the Balearic Islands are among those already convicted.
Minority Government
The shadow of the criminal probes has left Rajoy struggling to expand his support even with the economy on track to grow at least 3 percent for a third year in a row. The PP would get between 133 and 136 seats in the 350-strong parliament if elections were held today, according to a Celeste-tel poll for El Diario website published last week. That compares with 137 it won in June 2016, enough to make the PP the biggest party and allow Rajoy to lead a minority government.
"This is part of long story of PP corruption which is preventing the party benefiting from the good performance of the economy," said Lluis Orriols, a political scientist at Madrid's Carlos III University. "The photo of Rajoy appearing in court is very powerful."
Indeed, the area around the court building was blocked off on Wednesday morning with police vans parked to obscure the view of the prime minister's official car as he was driven into an underground parking lot away from the TV cameras and the protesters waiting for a glimpse.
— With assistance by Maria Tadeo
Before it's here, it's on the Bloomberg Terminal.
LEARN MORE