Palestinians Call for 'Day of Rage' as U.S. Lauds Israel Changes
By and
U.S. lauds Israel move as a concession amid security needs

Palestinians reject changes for Jerusalem's mosque compound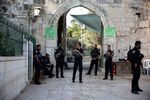 Palestinians rejected Israel's plan to defuse deadly tensions over a Jerusalem shrine revered by both Jews and Muslims, and threatened to escalate their protests with a "day of rage" on Friday.
Israel took down metal detectors from the Old City holy site on Tuesday but said it would replace them with other, unspecified technologies. Palestinian Authority President Mahmoud Abbas said cooperation with Israel on security and other matters will remain suspended until the status quo that prevailed before the devices' July 14 installation is restored.
"We reject all the Israeli measures," Sabri Sidam, a senior member of Abbas's Fatah party, said after a meeting of Palestinian leaders late Tuesday. "Israel is trying to outsmart us and all its measures are unacceptable." Israel installed the detectors after two Israeli policemen were killed by Israeli Arab gunmen at the shrine.
The Palestinian position dashed hopes that the detectors' removal would put a quick end to the unrest over the hilltop compound known variously as Temple Mount or the Al-Aqsa mosque complex, which has claimed the lives of three Israelis and four Palestinians. It also boxes Israeli Prime Minister Benjamin Netanyahu into a corner since domestically he is regarded as having caved in to Palestinian violence. A Midgam poll showed that 77 percent of Israelis think Netanyahu capitulated, Channel 2 reported on Tuesday.
A resolution of the showdown is urgent because the compound is the most volatile piece of land in the Israeli-Palestinian conflict. The question of who controls it has been a flashpoint for prolonged violence in the past.
Al-Aqsa is Islam's third-holiest shrine, and the compound is Judaism's most sacred place. Under a complicated control structure reached after Israel captured the eastern sector of Jerusalem from the Jordanian military in the 1967 Middle East war, Israel is in charge of its security, but Jordan is the religious custodian. Palestinians lay claim to all of East Jerusalem, including the mount, for a future capital.
Palestinian protesters clashed with Israeli security forces around the Old City late Tuesday, after the detectors were dismantled. Israeli police spokesman Micky Rosenfeld said there were no confrontations on Wednesday, and that some Muslims were entering the site to pray. Worshipers had stayed away when the detectors were in place.
The decision to remove the devices metal was part of a broader set of moves that also ended a standoff between Israel and Jordan over a deadly shooting at the Israeli embassy in Amman. Jordan had initially refused to let an Israeli security guard who shot dead a Jordanian assailant and bystander leave the country without interrogating him, something Israel refused to allow. Jordan relented and embassy personnel left Amman on Monday for Israel as the decision to remove the detectors was announced.
The moves were coordinated with White House aides Jared Kushner and Jason Greenblatt, who was dispatched to the region on an emergency mission.
On Tuesday, White House press secretary Sarah Huckabee Sanders applauded Israel's decision to take down the contentious devices, "despite the demonstrated need to enhance security." The metal detectors were installed after Israeli Arab gunmen killed two Israeli policemen there.
'Day of Rage'
Palestinians said they would demonstrate their displeasure with the steps Israel took by moving ahead with efforts to win international recognition of a state of Palestine and have Israel prosecuted in the International Criminal Court. The "day of rage" protests were called for the West Bank, Gaza Strip and Arab communities in Israel.
— With assistance by Jonathan Ferziger
Before it's here, it's on the Bloomberg Terminal.
LEARN MORE