Orban's Migration Policy Gets Slapped Down by EU Court Aide
By
Hungary, Slovakia may lose fight over refugee relocation

Court also backs EU 'solidarity' to handle flood of migrants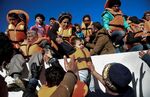 Hungarian Prime Minister Viktor Orban and Slovak Premier Robert Fico suffered setbacks to their controversial migration policies at the European Union's top court.
An adviser to the EU's Court of Justice said provisional EU rules to relocate refugees from member states such as Greece and Italy, key entry points to the bloc, should also apply to Hungary and Slovakia.
The duo attacked the 2015 decision to impose an obligatory quota system forcing the relocation of asylum seekers away from Italy and Greece, which found themselves overwhelmed by an estimated 3,000 new arrivals every day during the summer of that year.
Advocate General Yves Bot of the EU Court of Justice said in a non-binding opinion in Luxembourg on Wednesday that the quota system is "appropriate" to help "relieve the considerable pressure on the asylum systems of Italy and Greece following the migration crisis in the summer of 2015."
Italy and Greece in the months July and August of 2015 faced an unprecedented surge in immigrants, with the arrival of 180,000 people in those two nations alone. This was 211 percent more people than the two preceding months, according to the EU.
Open-Door Policy
Orban has been the staunchest opponent of an open-door policy in the EU, building a fence around his country's southern border, rounding up asylum seekers in container camps and openly rejecting a decision by the bloc to allocate a set number of refugees by national quotas. His anti-immigrant views -- he told entrepreneurs in February that Hungary must "preserve its ethnic homogeneity" -- have been echoed around parts of eastern Europe.
Poland and the Czech Republic have also refused to adhere to the quota system, prompting the European Commission to start an infringement process against them for failing to meet their legal obligations.
"Our legal position is unchanged," Hungarian Justice Ministry State Secretary Pal Volner told reporters after the EU court opinion. "If the court bases its decision on the law then we will welcome it positively and we will be very sorry if the court decides to become part of the political process."
Fico's office said in a statement that the premier "reiterates that he will never accept any mandatory quotas."
In separate rulings concerning Slovenia and Austria, the EU court said nations were free to show "solidarity" to deal with a migration crisis that has left countries on the bloc's borders stretched and overwhelmed -- even where they aren't required to do so by the letter of the law.
Slovenia and Austria sought the EU judges' guidance on whether applications they received from people who first entered the EU through Croatia should be dealt with by them or if asylum seekers had to be sent back to Croatia. More than 600,000 refugees passed through the country on the so-called Balkan route in 2015 and early 2016. Virtually all of them continued towards western Europe, while 39 sought asylum.
Taking in asylum seekers and refugees from non-EU nations "may be facilitated" if member nations act "unilaterally or bilaterally in a spirit of solidarity" even if under EU rules they are not required to do so, the bloc's top court ruled in the cases.
— With assistance by Jasmina Kuzmanovic, Zoltan Simon, and Radoslav Tomek
Before it's here, it's on the Bloomberg Terminal.
LEARN MORE