Noble Group Pulls Back to Asian Roots After $1.8 Billion Loss
By , , and
Trader agrees to sell gas-and-power business to Mercuria

'Operating environment continued to be challenging': Noble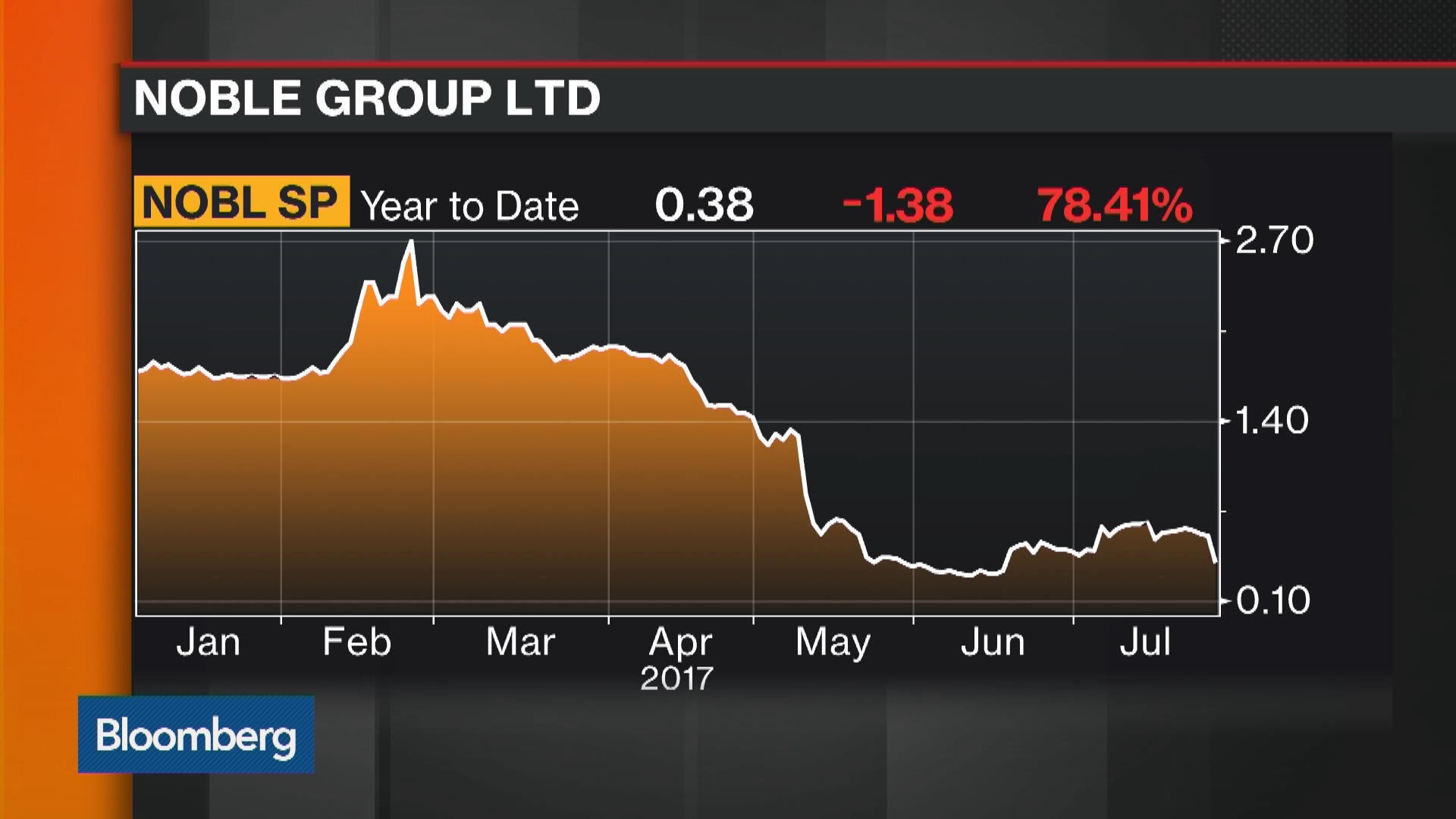 Noble Group Ltd. abandoned its global commodity-trading ambitions and set out a plan to fall back on its Asian roots as a second-quarter loss of as much as $1.8 billion challenges its survival.
The trading house's bonds slumped after it warned of a quarterly loss triple its market value and said it would sell almost all of its businesses outside Asia.
The announcement all but ends hopes Noble could survive as a major force in global commodities trading by attracting a "white knight" investor to inject fresh capital. The company has been battered by two years of low commodities prices, big losses and accusations it inflated the value of trading contracts.
"Noble is becoming a marketing office, and nothing more," said Jean-Francois Lambert, a consultant and former head of global commodity trade finance at HSBC Holdings Plc. "The question now is not about whether we are going to maintain Noble as a global trading house. The question is whether the name Noble is going to disappear -- and how long it will take."

In a statement on Wednesday, after trading of its shares in Singapore had closed, Noble said it would post a loss of $1.7 billion to $1.8 billion for the three months through June, largely because of a decision to revalue its long-term coal contracts. The valuation of those contracts had been criticized by Iceberg Research, a group that first raised concerns about Noble's accounting more than two years ago.
At the same time, the Hong Kong-based company agreed to sell its gas-and-power unit to rival Mercuria Energy Group for $248 million and said it's seeking buyers for its global oil-liquids business. That would effectively make Noble an Asia-centered company focused on coal and iron ore.
The latest setback compounds a crisis that's wiped out more than 90 percent of Noble Group's market value, and spurred concern that the company may not be able to honor its debts. As the shares collapsed, the trader has reported losses, had its credit ratings cut deep into junk territory and been forced to parry criticism of its accounting.
Strategic Review
Since reporting a surprise quarterly loss in May, the company has been fighting for survival, appointing Paul Brough, a restructuring specialist, as chairman and initiating a strategic review.
On Wednesday, the company said that its operations had been undermined by a lack of liquidity, including "constraints placed on the group's access to trade finance lines" in the second quarter. Excluding non-cash exceptional items, the company said its adjusted net loss for the quarter would be in the range of $450 million to $500 million.
It said it had formed an alliance with Mercuria "to improve access to trade finance facilities in Asia," which had eased some of its liquidity constraints.
Trade finance is the lifeblood of commodity trading houses that need large amounts of capital to fund their operations moving materials from metals to oil around the globe.

The plan to split up the company -- which would see headcount fall by more than half to 400 -- will return Noble to its Asian origins. Richard Elman, who remains the largest shareholder in the company, started the business in the 1980s in Hong Kong as a middleman supplying Chinese steelmakers and power plants and transformed it into a conglomerate operating assets from Australian coal mines and Brazilian sugar mills to American oil terminals.
Global Reach
Commodities bankers at one point referred to it as a "mini-Glencore" for its global reach and spread across multiple commodities markets.
But on Wednesday Noble Group said that it had "given priority to a further reduction in the group's indebtedness" and as a result would take a range of actions, including the sale of the gas and power and oil businesses. The company will also sell other assets totaling as much as $1 billion, while cutting costs and revaluing long-term coal contracts on its balance sheet.
The plan represents "a realistic prospect of dealing with the group's liabilities in an optimal manner," Chairman Brough said on Wednesday. He stressed "the support of key stakeholders over the coming few weeks and months will be critical."
Noble Group secured four months' breathing room from one set of lenders last month, but said it's still in talks with lenders on a revolving credit facility due May 2018 to waive covenants until October 2017. It's due to make interest payments on its bonds on July 29 and Sept. 9, according to a note from JPMorgan Chase & Co. analysts last month.
Noble Group's January 2020 notes tumbled 5.7 cents to 33.5 cents on the dollar, according to Bloomberg-compiled prices, after earlier sliding to a record low of 30 cents.
— With assistance by Andy Hoffman, and Denise Wee
Before it's here, it's on the Bloomberg Terminal.
LEARN MORE