Modi Gains as Rival Alliance in Key Indian State Withers
By and
Nitish Kumar forms government in Bihar with BJP support

Tensions arose over corruption allegations against deputy head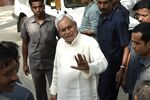 Prime Minister Narendra Modi's party has unexpectedly gained power in a key Indian state after a burst of political drama, underscoring the depth of opposition disunity ahead of the next national election.
An alliance of opposition parties has fallen apart in Bihar, a state of around 100 million people, allowing Modi's Bharatiya Janata Party to help form a government in yet another state.
Nitish Kumar, regarded as a potential rival to Modi in the next election due in 2019, resigned on Wednesday evening as Bihar's chief minister. By Thursday morning, Kumar had agreed to form a government with support from Modi's Bharatiya Janata Party, according to Sushil Modi, the BJP's leader in Bihar. He was then sworn in by Governor Keshri Nath Tripathi in Patna, the state's capital.
Kumar, in power for 20 months, quit after days of tension between his Janata Dal (United) party and its local partner, Lalu Yadav's Rashtriya Janata Dal. Kumar had split with the BJP in 2013 and was part of an alliance that stood against Modi in the 2014 national elections. 
An opposition grouping led by Kumar won 73 percent of Bihar's 243 assembly seats in the 2015 state election -- a rare defeat for Modi's BJP which has had a streak of wins in provincial polls since 2014. Kumar's resignation and immediate return with BJP support erases Modi's loss to the so-called "grand alliance" of opposition parties in Bihar, which was viewed as a significant setback for Modi and fueled speculation that Kumar could lead a similar alliance against Modi in 2019.
The moves also bolsters Modi's hold on India's powerful state governments.
Modi's strategy of sowing discontent between Kumar and his allies in the Bihar assembly "has resulted in Kumar's decision to exit the alliance," said Eurasia Group analyst Shailesh Kumar. "This is on balance positive for Modi," Kumar said. "For economic reforms, with the opposition in greater disarray, obstruction to Modi's agenda and economic policy will wither further."
'Inner Voice'
Tejaswi Yadav -- Lalu's son and the deputy chief minister -- has faced calls to step down over a graft case. Kumar said he sought "an explanation" from Yadav on the corruption allegations and "decided to call it quits when there wasn't any."
"It was impossible to continue ruling the state under the current circumstances and I heard my inner voice in taking this decision," Kumar said in a live television broadcast. "I don't blame anyone for this and will remain committed to the development of Bihar and its people."
Modi congratulated Kumar on Wednesday for "joining the fight against corruption," saying on Twitter it was necessary to forget differences of opinion to oppose graft.
The graft allegations against Tejaswi Yadav are related to "irregularities" in government tenders and land transfers, according to the New Indian Express. 
In early July, India's Central Bureau of Investigation conducted searches and interviewed Lalu Yadav, who told reporters the raids were part of a "conspiracy and vendetta" against his party, according to the paper.
— With assistance by Bibhudatta Pradhan
Before it's here, it's on the Bloomberg Terminal.
LEARN MORE