Hammond Indicates Brexit Transition Talks to Start This Fall
By
U.K. cabinet was split over length of transition, necessity

Brexit supporters such as Fox and Gove now agree it's needed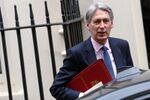 Chancellor of the Exchequer Philip Hammond said the U.K. wanted discussions with the European Union over transitional arrangements to start as soon as September.
Achieving that will depend on the 27 other EU governments agreeing they and the U.K. have made "sufficient progress" on determining rights for citizens, the border between the two Irelands and the financial settlement the bloc wants Britain to pay. The EU is eyeing an October summit of leaders as the earliest opportunity for such a decision.
"We hope to have achieved that milestone by September or October, and we then expect to be able to go on to talk about this broader range of issues," Hammond told ITV News in the most concrete sign yet that the government has come round to the idea that divorce talks will drag on and a Plan B is needed.
"We hope to be able to deliver agreement about an interim arrangement with the EU as early as possible," he said on the same day that the U.K.'s economy was reported to have expanded only a modest 0.3 percent in the last quarter.
The cabinet of Prime Minister Theresa May was divided on how long a transition should last and even it was necessary to have a system in place to prevent the country from crashing out of the EU in March 2019. The risk of quitting without an agreement in place for trade would leave U.K. subject to tariffs.
While Hammond had said a transition should last a couple of years, Trade Secretary Liam Fox had said the period of implementation might only need to be a few months to tie up loose ends. Now both sides of the Brexit debate appear to be on board with the idea that the sticking points may take longer to untangle and that businesses and financial markets need time to adapt.
Fervent supporters of Brexit -- Fox and U.K. Environment Secretary Michael Gove -- have dropped their reservations and recognize there should be a transitional period to avoid the "cliff edge" scenario.
While in Washington for trade talks, Fox said there will was "a growing consensus" among cabinet members on "a transition and implementation phase" to "give our businesses and our investors the stability to understand what the new environment is going to look like."
Gove told BBC Radio Wednesday that "the important point is we're leaving, and there will be a point where we are outside the European Union, and then fully outside, master of our own destiny." As long as "we know we are going to get to that destination," he said, "then I want to ensure that we take as pragmatic an approach as possible."
Before it's here, it's on the Bloomberg Terminal.
LEARN MORE