Gold Is Getting Really Bored With the World
By
Price spent last four months in 7.6% range, lowest in 10 years

Volatility measured over 120 days dropped to lowest since 2005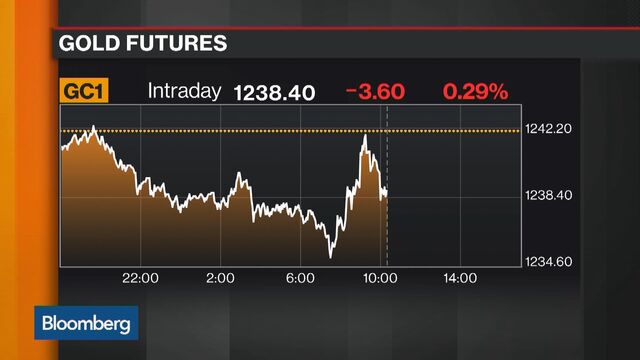 As political leaders find ways to shock like never before, the world's favorite haven investment hasn't been calmer in years.
In the past four months, gold prices moved in a 7.6 percent range, the least in 10 years, while 120-day volatility is at the lowest since 2005. That's amid unprecedented uncertainty over U.S. President Donald Trump's legislative program and divisions in the U.K. over plans to leave the European Union.
Gold is partly following a trend in other markets, with assets supported by sustained low interest rates, but also reflects factors unique to the metal.
Miners have given up hedging future production under pressure from shareholders concerned that it pushes metals prices lower. At the same time, central bank trading has dried up, handing more control of the market to jewelers who tend to buy on dips and sell on rallies.
"Since Brexit, volatility has been coming down, down, down," said Matthew Turner, an analyst at Macquarie Group Ltd. in London. "Much of this reflects wider markets but it also seems like many of the shocks that rippled through the gold market in the past have disappeared."

The metal for immediate delivery closed at $1,250.06 an ounce Tuesday, down 0.4 percent, having spent the day in a $9 range. It traded at $1,247.47 at 2 p.m. in London and hasn't moved more than 1 percent a day since early June.
Gold's 120-day historic volatility hit a two-year high above 18 percent around the time Britain voted to leave the EU. It has since fallen to about 10 percent, the lowest since 2005.
For a QuickTake on the history of gold's price moves, click here
While irritating for traders who make a living betting on strong moves, the sleepy gold market also reflects stability in other assets, with measures of global shares at record highs. Investors from currencies to equities have been boxed in between concerns over a weakening dollar and speculation that central banks will tighten money supply.

"When gold is as uninteresting as this, it usually means that other assets are riding along quite nicely," said Tom Kendall, head of precious metals strategy at ICBC Standard Bank Plc. "But it's pretty dismal from anyone's perspective who wants to trade it."
Before it's here, it's on the Bloomberg Terminal.
LEARN MORE