ECB Inflation Song Will Stay in Key Through Draghi's Holiday
By
Euro-area growth, inflation data will be published next week

Stronger euro has potential to stymie ECB's normalization bid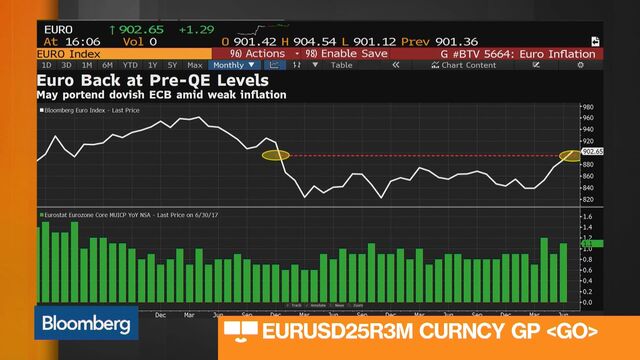 When Mario Draghi returns from summer vacation to write his Jackson Hole speech, he'll probably find that not much has changed.
The picture will remain one of inflation just slowly improving despite strengthening economic momentum. While the European Central Bank president has argued that price pressures will eventually pick up as the output gap closes and wage growth accelerates, at least in August, he's likely to arrive at the same conclusion he drew last week: "No, we aren't there yet."

Following gross-domestic-product figures for France, Spain and Austria on Friday that are forecast to show continued expansion, the key data will be euro-area inflation for July on the final day of the month. The ECB has spent more than three years trying to stoke price growth with a cocktail of bond purchases and negative interest rates, but the number -- at just 1.3 percent in June -- remains below the central bank's goal of close to 2 percent.
"Mario Draghi will come back from his holidays, and he'll find a broadly unchanged inflation picture," said Gero Jung, chief economist at Mirabaud Asset Management in Geneva. "He's the son of a pharmacist. But I doubt he'll find a magic potion."
At the end of a month when Europeans typically flock to Mediterranean beaches, the 69-year-old Italian is due to speak at the Federal Reserve's annual conference held in Jackson Hole, Wyoming. 
Central bank watchers will be scrutinizing his remarks for clues on when and how euro-area officials may take the next step toward winding down a 2.3 trillion-euro ($2.7 trillion) bond-buying program after adjusting their interest-rate guidance in June. The Aug. 24-26 event is two weeks before the next meeting of the Governing Council.
After his June address at the ECB's own symposium in Portugal confused some investors, who interpreted the comments as an indication that tighter policy was imminent, Draghi may favor cautious language. Last week, he deferred a decision about the future of quantitative easing until autumn. 
"We have to have all the available information at that point in time, which we'll certainly have by then," he told journalists after the July 19-20 Governing Council meeting.
Such keenly anticipated data include euro-area GDP figures, with an estimate slated for publication on Aug. 1, and a national breakdown two weeks later. An update on economic and business confidence is out on July 28, the same day Germany will release its inflation print for the month.
In the U.S., the Federal Reserve is weighing its next step in policy normalization, with officials saying they would begin running off the institution's $4.5 trillion balance sheet "relatively soon."

In Europe's largest economy, ebullient sentiment suggests a very strong performance at the start of the year is set to extend into the second half. Steadily declining unemployment has been supporting domestic spending and the Bundesbank predicts that "lively" export demand will turn manufacturing into a leading growth driver.
The improving economic backdrop and anticipation of a change in monetary policy has also brought a side effect. The euro is near the strongest in more than two years versus the dollar.  
"The fluctuations are very much a representation of a politically stronger Europe" after the election of Emmanuel Macron as president in France, Bayer AG's Chief Executive Officer Werner Baumann said in an interview with Bloomberg Television's Manus Cranny.
The currency strength could weigh on the economy, damp inflation and disrupt the ECB's stimulus exit. Draghi and his colleagues have stressed time and again that they're wary of any unwarranted tightening in financial markets, and pledged to defend the recovery.
"In terms of growth or inflation, we're not going to see a big departure from the picture the ECB has now," said Marco Valli, chief euro area economist at UniCredit in Milan. "It's about how markets respond and especially the exchange rate. They don't want to pre-commit at a time when it's very uncertain where the exchange rate will go and how fast. "
— With assistance by Harumi Ichikura, and Marthe Fourcade
Before it's here, it's on the Bloomberg Terminal.
LEARN MORE