Do You Come From a Land Down Under? Aussie Lawmakers Aren't Sure
By
Resources Minister Canavan steps down amid dual-citizen jumble

Latest drama an unwelcome distraction for Turnbull government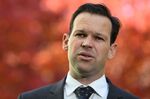 Australia's history as a land of immigrants is providing some unexpected consequences -- it's jeopardizing lawmakers' careers.
Resources Minister Matt Canavan, 36, resigned from the Cabinet on Tuesday after his mother revealed she had successfully applied for Italian citizenship on his behalf in 2006. That could put him in breach of Australia's constitution, bringing down a rising star in Prime Minister Malcolm Turnbull's government.
While the constitution is clear about disallowing dual citizens to serve in parliament, Australia's High Court "has previously said there is flexibility there and the government will make a strong legal argument that the matter is not black and white," said Gabrielle Appleby, a constitutional lawyer and associate professor at the University of New South Wales in Sydney.
Two Greens senators were forced to quit parliament earlier this month after discovering they were also dual citizens. Attorney General George Brandis said Tuesday that Canavan's case may be different because his citizenship was obtained without his knowledge or consent. Canavan will remain a senator until the High Court rules on the issue.
The confusion over Canavan's citizenship is another distraction for Turnbull, whose Liberal-National government is trailing in opinion polls. It's also an unwelcome reminder of the political chaos that's seen Australia change prime minister five times in the past decade.
"The government will be aware this looks a bit sloppy," Martin Drum, a senior lecturer in politics at the University of Notre Dame in Perth, said of Canavan's removal from the ministry.
Outdated Law?
This latest political drama serves as a reminder that Australia's constitution, written when the former British convict colony become a nation in 1901, may be outdated. Nowadays, nearly half of Australians were either born in a different country or have at least one of their parents hailing from overseas.
"The constitution was drafted at a very different time," said Appleby. "Society has changed, it's much more multicultural. Given those changes, it's a legitimate conversation to have on whether the restrictions in the constitution are still appropriate."
Still, any constitutional changes need approval from a majority of voters in most of Australia's states via a compulsory ballot -- a tough ask, as a litany of failed votes show. Only eight of 44 referendums have been successful.
Canavan's attempt to remain a senator and regain his Cabinet portfolio stands more of a chance through his High Court bid, Appleby said.
Alarm Bells
According to Canavan, his mother was born in Australia but is of Italian descent. She applied for Italian citizenship on his behalf without informing him or needing him to sign any documents.
Alarm bells rang when she learned of the predicament faced by the now-departed Greens senators. "I had no knowledge that I myself had become an Italian citizen, nor had I requested to become an Italian citizen," said Canavan, who was also minister for northern Australia.
The case has left the government scrambling for information on the vagaries of Italian law.
Unneeded Disturbance
Turnbull left open the possibility of Canavan returning to his ministerial post. He appointed Deputy Prime Minister Barnaby Joyce to act in the role until Canavan's status was settled.
The Turnbull government's one-seat majority in the lower house will not be affected if Canavan is forced to resign from parliament because he is a senator. Still, it's an unneeded disturbance at a time when the coalition is looking to promote its ability to create new economic growth and job opportunities.
Former prime minister Tony Abbott, who Turnbull defeated almost two years ago in a leadership challenge that sidelined the coalition's conservative wing, has been openly critical of the government's policies in recent months.
"While it doesn't put Turnbull at a significant disadvantage because it's not a scandal sparked by impropriety or mal-administration, he really wouldn't want to lose another one like this," said Drum from the University of Notre Dame.
— With assistance by Michael Heath
Before it's here, it's on the Bloomberg Terminal.
LEARN MORE