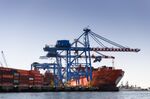 Just as Chile's reliance on copper begins to wane, the South American country is developing a new fix. This time on a country.
Exports to China, excluding copper, jumped 148 percent to $4.3 billion in 2016 from 2008, driven by shipments of fruit, wine, salmon and forestry products. Non-copper exports to the rest of the world slid 9.1 percent to $28.2 billion over the same period. The surge in shipments to China helped the economy maintain growth, even as a slump in prices undermined copper exports.

China is the present that is likely to keep giving for Chile, according to Enrico Vicentini, a partner at Pacifico Macroeconomia y Finanzas in Santiago.
"We don't need China to grow at double digits to find a market for our exports," Vicentini said. "With current growth and a stable world, Chinese demand for Chilean products should be a catalyst to continue diversifying our exporting matrix."
China has doubled its wine imports in the past three years, surpassing Canada to take fourth place and becoming Chile's largest export market of the alcohol. And there's room for further growth. Chinese consumers still only drink 1.14 liters of wine per capita, per year. That compares with 21.2 liters in the U.K. and 9.92 liters in the U.S.

The Chinese are also demanding healthier diets, which means increased dependence on food imports. Chile became China's largest supplier of fruit last year, overtaking the U.S. and Thailand, according to the export agency Direcon-ProChile. The Asian giant has 20 percent of the global population, yet scarce resources with only 6.3 percent of the land and 9 percent of the water supplies.
"In China there is a middle class that is starting to emerge and demanding products somewhat more sophisticated than what we were used to seeing, and that represents a very big opportunity for Chilean agriculture," Vicentini said.
Still, copper remains Chile's principal export to China and with prices rallying in the past year on signs of increased demand from China. That is unlikely to change. It is just one more factor that bodes well for Chilean shipments across the Pacific.
So, if you want to know how Chile's economy will do, you can get an idea by reading the news from China first.
Before it's here, it's on the Bloomberg Terminal.
LEARN MORE