Barclays Investment Bank Under Scrutiny as Stock Lags Rivals
By and
CEO Staley awaits conclusion of whistle-blowing probe

U.K. lender to post second-quarter earnings on July 28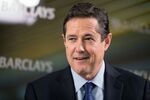 Barclays Plc's Jes Staley will strive to silence a chorus of skeptics when the lender reports second-quarter earnings on Friday.
The shares are trailing all other European banks in 2017 after it missed out on a stellar first quarter for debt and equity trading revenue at most investment banks. While Chief Executive Officer Staley has shrugged off criticism, investors remain concerned his bet that Barclays can compete with the top-tier of Wall Street isn't paying off.
Staley has thrown his weight behind the investment bank in London and New York, while shrinking elsewhere, arguing it provides a counterbalance to the lender's more profitable retail and card businesses. The latter divisions could also face difficult U.K. market conditions amid Brexit and a possible consumer credit bubble. Following muted activity at U.S. rivals, expectations are even lower this time for the securities unit, with JPMorgan Chase & Co. analysts predicting Barclays' fixed-income trading fell 16 percent in the period.

"Barclays' continued assertions that it remains a top-tier investment bank will lose further credibility if it, as Goldman did, repeats a weak first quarter FICC trading result," Bloomberg Intelligence's Jonathan Tyce and Georgi Gunchev wrote last week. "Intense competition and Brexit unknowns will pressure the lender's U.K. profit."
Looming over the results will be several scandals involving the CEO's personal conduct and the bank's past. The U.K. Financial Conduct Authority is interviewing executives as part of its investigation into Staley's attempts to unmask a whistle-blower, while separately the Serious Fraud Office has charged the bank and four former executives with conspiracy to commit fraud related to its 2008 capital raising from Qatar. 
London-based Barclays may also go to court to fight a multibillion-dollar fine from the U.S. Department of Justice over the sale of toxic mortgage-backed securities before the financial crisis. Investors and analysts will grill managers on the status and likely outcome of these probes.
The bank may also announce the closure of its non-core unit, which housed its toxic and unwanted assets, and reintegrate the remaining 25 billion pounds of risk-weighted assets into what it's been calling the "core" business. 
With Staley saying in May Barclays may need another year and a half before it generates an acceptable return on equity for investors, analysts will be seeking any clues on when he plans to boost the dividend. The payout was cut in half last year to help the bank absorb losses from selling off non-core assets faster.
The shares rose 0.6 percent to 211.05 pence at 10:49 a.m. in London, paring the loss this year to 5.6 percent. That decline still makes Barclays the worst-performer on the 37-member Bloomberg Europe Banks and Financial Services Index.
ESTIMATES:
Bloomberg News-compiled 2Q17 estimates (based on survey of four analysts):

Adjusted pretax profit: GBP1.23b
Revenue: GBP5.19b
CET1 ratio: 12.8%
Total expenses: GBP3.4b
Corporate and investment bank pretax profit: GBP717m (based on two analysts).
DATA:
Barclays down 5.6% year-to-date vs 11% gain for Stoxx 600 Banks Index; trades at 10.5x next year's earnings vs 12.4x peer average
28 ratings, 13 buy, 8 hold, 7 sell; avg PT 220.23p implies 5% upside
Options market is pricing in 2.1% move either way on earnings day, compared with an average of 4.3% after the last eight quarterly reports
TIMING
Earnings 7 a.m. U.K. time; conf. call 9:30am +44 20 3059 8116, password "Barclays"
— With assistance by Cecile Vannucci
Before it's here, it's on the Bloomberg Terminal.
LEARN MORE