Australian Inflation Misses Bottom of Central Bank's Target
By and
Tradable goods dropped most since first quarter of 2016

Lower global oil price helped drag down headline inflation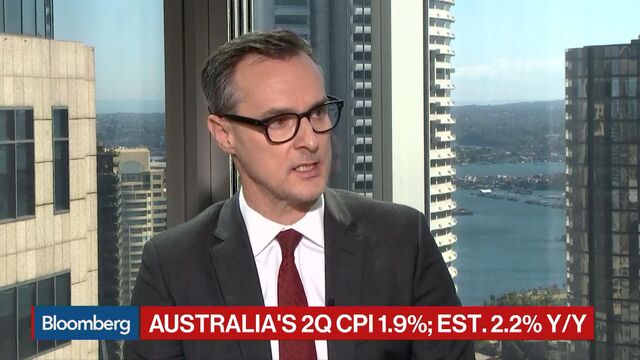 Australia's inflation gauges missed the bottom of the central bank's target as lower oil prices dragged down the headline measure, signaling policy makers are likely to extend an almost yearlong interest-rate pause.
Key Points
Quarterly headline CPI advanced 0.2% vs estimated 0.4%; annual CPI gained 1.9% vs forecast 2.2%. RBA aims for annual inflation of between 2-3% on average
Tradable goods prices, which are impacted by the currency and other international factors, fell 0.3% from the previous quarter, the deepest drop since the first three months of 2016
Tradables also declined for a third straight quarter, the first time that's occurred since the three quarters ended March 31, 2012
Aussie dollar bought 79.04 U.S. cents at 2:46 p.m. in Sydney from 79.33 cents prior to report; it's climbed almost 10% this year
Big Picture
Reserve Bank of Australia Governor Philip Lowe has signaled a willingness to tolerate weaker inflation, warning a rapid return to target implies interest-rate cuts that could further inflame east coast house prices. He underscored that focus in minutes of this month's policy meeting, saying the housing and labor markets "warrant careful monitoring".
Australia's jobs market has strengthened in recent months -- recording the largest back-to-back gain in full-time jobs in almost three decades; yet underemployment and under-utilization remain elevated, suggesting continued slack and little likelihood of large wage increases in the near-term to fuel faster inflation.

Economist Takeaways
"There is no smoking gun to justify a change of interest rates in any direction," said Craig James at the securities unit of Commonwealth Bank of Australia. "Inflation is comfortable just below the Reserve Bank's 2-3 percent target band. Inflation isn't rapidly moving below the target band, nor is it rapidly lifting back into the target band. So the Reserve Bank can stay on the interest rate sidelines."
"We believe underlying inflation is likely to remain subdued for some time yet, and as such we expect the RBA to keep rates on hold throughout 2017 and 2018," said Kate Hickie at Capital Economics. "Alongside the RBA's financial stability concerns, this explains why we doubt the RBA will begin to raise rates until 2019."
Other Details
In a speech shortly after the report's release, Lowe said "Our central scenario remains for underlying inflation to pick up gradually as the economy strengthens, and this morning's CPI data are consistent with that scenario and were in line with our expectations"
Second-quarter trimmed mean rose 0.5% matching economists' estimate of 0.5%; annual trimmed mean gauge rose 1.8%, also matching estimate
Quarterly weighted median gauge advanced 0.5% vs estimated 0.5%, while annual gauge gained 1.8% vs forecast 1.7%
Non-tradables, which are affected by domestic variables like utilities prices, rose 0.4% from the prior quarter
Automotive fuel declined 2.5% in the period; Brent crude averaged $50.79 in the period, down from $54.57 in the first three months of the year
Domestic holiday travel and accommodation costs led the declines, falling 3.2%; fruit slumped 4.4%
Medical and hospital services costs climbed 4.1%, leading gains
— With assistance by Garfield Clinton Reynolds
Before it's here, it's on the Bloomberg Terminal.
LEARN MORE