Architect of Indonesia Post-Crisis Economy Urges More Tax Reform
By and
Ex-economy minister says local government key to revenue boost

Indonesia must prepare for pressures from aging population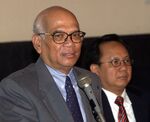 One of the chief architects of Indonesia's post-crisis economy says local governments must be given more autonomy to help overcome a revenue gap hampering Southeast Asia's biggest economy.
Dorodjatun Kuntjoro-Jakti, a former adviser to five presidents, said while Indonesia had undertaken "courageous" reforms in the wake of the Asian financial crisis two decades ago, it needs to do more to give regional administrations the power to attract investment.
Indonesia is facing a fiscal squeeze with the government's budget deficit close to breaching a mandated ceiling of 3 percent of gross domestic product, a cap that Kuntjoro-Jakti helped introduce in 2003. While the economy is expanding at 5 percent, tax revenue is low at 10.3 percent of GDP -- below the 15 percent threshold the International Monetary Fund estimates countries should achieve for faster growth and development.
"The increase in the tax-to-GDP ratio in so many countries, including many in the OECD, is not done just by the central government, it's done by the local government," Kuntjoro-Jakti, 77, said in an interview in Jakarta.
For countries in the Organisation for Economic Co-operation and Development, "the rise in tax-to-GDP revenue is actually coming more and more in those countries from the local government," the former economy minister to President Megawati Soekarnoputri said.
The provincial and local governments received almost 60 percent of their total revenue of 1,032 trillion rupiah ($77 billion) last year from the central government, according to official data.

Indonesia's budget deficit is projected to widen to 2.7 percent of GDP this year from 2.4 percent forecast in August. President Joko Widodo is seeking hundreds of billions of dollars to finance an ambitious infrastructure agenda and to boost growth to 7 percent. The government will need to boost revenue or cut spending to keep the budget deficit under control.
Aging Population
Kuntjoro-Jakti also warned that Indonesia will face demographic pressures as the proportion of the population above 65 years will begin to rise significantly compared to those of working age. 
"As we are moving towards the early stage of aging, the end of the bonus demographic, we have this problem. This is going to be a long-term liability," he said. A legacy of the Asian financial crisis is that "many of the elderly will find their savings are not enough," he said.
More than a fifth of Indonesia's population of 260 million are below the age of 15, while 8.7 percent are older than 65, according to data from the U.S. Census Bureau.
Kuntjoro-Jakti -- who served as Indonesia's ambassador to the U.S. under Presidents Suharto, B.J. Habibie and Abdurrahman Wahid during and after the Asian crisis -- downplayed the protectionist threat of President Donald Trump after he pulled the U.S. out of a Pacific trade deal and Indonesia was included in a list of nations being probed for potential trade abuse.
"For me, his 'America first' is just a vision. I haven't seen any strategy," Kuntjoro-Jakti said. "When you continue with vision and no clear strategy then we just stick to what is presented by the market as reality."
Before it's here, it's on the Bloomberg Terminal.
LEARN MORE