Another Trading Probe Makes Deutsche Boerse's Bad Year Worse
By and
German regulator probes one of first listings on new market

Prosecutors want $12 million fine for CEO's share purchases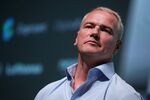 Deutsche Boerse AG's chief executive officer is having a bad year.
His $14 billion London Stock Exchange Group Plc deal collapsed, he's being investigated for insider trading, and a German regulator is reviewing the reliability of his entire management team. Today, the company said it'll take a better trading environment just to meet the low end of its 2017 earnings forecast.
Now Carsten Kengeter faces a further test. The CEO has been touting Deutsche Boerse's new Scale market as the ideal way for small German companies to raise capital. But, just four months after Scale's debut, the country's markets watchdog is investigating suspicious trading in the shares of one of its listings. Naga Group AG, a Hamburg-based fintech company, saw its shares soar after its initial public offering, then plummet days later.
"If there are problems with the IPO, that's a bad sign and that creates a bad reputation for the new Scale market," said Alexander Thomas, capital markets partner at law firm Pinsent Masons. "If there is market manipulation, it's not Deutsche Boerse's fault, but it makes for a bad reputation. You destroy the confidence you want to create."
The investigation into potential market manipulation in Naga's shares comes on top of a five-month-old probe into what Kengeter knew about LSE takeover talks when he bought 4.5 million euros ($5.2 million) of Deutsche Boerse shares in December 2015. Another probe into the management team, which regulators said was triggered by the insider trading case, began on July 19.
The Naga episode shows how even the biggest stock exchanges can stumble when they venture into the world of smaller stocks. Naga's IPO earlier this month was only the third for Scale. Stock-exchange operators around the world have created markets for tiny stocks, but few of the companies make it big and most shareholders lose money.
For a story about the losses on small-cap markets everywhere, click here
Bafin, the German markets watchdog, is looking for evidence of market manipulation or insider trading in Naga's shares, a spokeswoman said. It can send the case to prosecutors if it finds evidence of wrongdoing. Naga said it will cooperate with Bafin and it wants to avoid future volatility in its shares, and that the initial rally was fueled by short-term speculation.
Scale requires companies to list 20 percent of their capital or one million shares. Naga listed just 4.76 percent of its stock, or one million out of 21 million shares, meaning that it still complied with Scale's rules even though the proportion of its capital available to trade was tiny. Deutsche Boerse's registered market demands a minimum free float of 25 percent.
Kengeter has said he is proud of Deutsche Boerse's new market.
Although Deutsche Boerse wrote the rulebook for Scale, it is not responsible for the conduct of listed companies. Instead, small stocks such as Naga pay about 20,000 euros for a bank that ensures they follow the rules. LSE's own market for tiny companies, AIM, has a similar approach.
The European Union's market-abuse directive, which came into force last year, and tougher domestic legislation compel watchdogs to seek out market manipulation.
"If you are a member of a management board and Bafin can prove you allowed insider trading, your contract on the management board will be canceled at very short notice," Thomas said. "Ten years ago, it might have been easy to get away with this, now you have to be very very careful."
Bafin's investigation into Naga Group comes just days after the local government for Deutsche Boerse's home state of Hesse, which regulates the Frankfurt Stock Exchange, said it is reviewing the exchange operator's management.
The company has called the allegations "unfounded" while Kengeter has said such an offense betrays "his innermost conviction."
The prosecutor informed Hesse's Economy Ministry last week that it will probably fine the exchange operator 10.5 million euros to resolve the probe.
"We are very carefully analyzing all details and we will look into this in depth and based on the analysis we will come to a conclusion," said Heiner Seidel, a spokesman for Deutsche Boerse.
"The probe is not yet completed and includes all persons who assume responsibility for possible breaches of law," Hesse spokesman Wolfgang Harms said in an emailed statement.
Before it's here, it's on the Bloomberg Terminal.
LEARN MORE