technology
This Esports League Will Pay Pro Gamers $50,000 Plus Benefits
By and
Players will also get health insurance, retirement benefits

League is built around company's Overwatch shooting game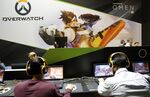 Video-game players competing in Activision Blizzard Inc.'s new esports league will receive minimum salaries of $50,000 a year, health insurance and retirement benefits.
Players in the Overwatch League, set to launch later this year, will also get at least 50 percent of all performance bonuses earned by their team, the Santa Monica, California-based company said in a statement Wednesday. Total bonuses distributed in the first season will be $3.5 million, according to Activision, with at least $1 million going to the season champion.
In esports, professional video-game players compete live and online before crowds of spectators. Game publishers see the competition as a way to showcase titles and connect with fans. The new league is built around Activision's Overwatch game, a cartoonish version of a shooting game featuring six-player teams competing in a future version of Earth.
The league is one of several professional video-gaming organizations built to resemble traditional sports groups like the National Football League or National Basketball Association. Overwatch League will have franchises based in specific cities, with media rights, revenue sharing and free-agency periods. Unlike the established sports leagues, however, there is no players union to collectively bargain for benefits, leaving those decisions largely up to the publisher. 
Mad Scramble
Activision's announcement Wednesday sets the stage for a mad scramble for talent. All 30 million Overwatch players are considered free agents, meaning they can sign with any team, regardless of previous affiliations. The official signing window will run from Aug. 1 to Oct. 30. All players will sign a one-year guaranteed contract with an option for a second year. Teams will also provide housing and practice facilities. The $50,000 salary floor compares with a $53,000 minimum in Major League Soccer.
Activision shares rose 2.8 percent to close at $62.64 in New York Wednesday. They've gained 73 percent this year.
Earlier this month, Activision announced the first seven ownership groups in the league, a list that includes New England Patriots owner Robert Kraft and Jeff Wilpon, whose family owns the New York Mets. The groups each agreed to pay a $20 million franchise fee, according to people with knowledge of the matter.
Activision Chief Executive Officer Bobby Kotick has identified esports as one of the growth areas for the company, the largest independent video game publisher. In March, Overwatch was named Game of the Year at the Game Developers Choice Awards.
The main rival to Overwatch League is Riot Games' reformed League of Legends Championship Series, or LCS. The 2018 North American LCS announced that league revenue would be split among players (35 percent), teams (32.5 percent) and the publisher (32.5 percent). Los Angeles-based Riot Games is part of China's Tencent Holdings Ltd.
There is no set launch date for Overwatch League. Activision said it may add more teams before the league starts later this year.
For more on esports, check out the Decrypted podcast:
Before it's here, it's on the Bloomberg Terminal.
LEARN MORE