politics
U.K.'s Davis Expresses Hope for Trade Deal With EU Before Brexit
By and
Davis says Parliament will decide on future trade agreements

Brexit secretary in Prague to meet Czech foreign minister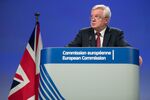 Brexit Secretary David Davis expressed optimism that the U.K. and European Union could still strike a trade deal before Britain leaves the bloc in March 2019, a more bullish stance than that adopted by other members of Prime Minister Theresa May's government.
"Once we got onto the future arrangements, we want to see a comprehensive trade arrangement, a minimum number of economic barriers, so that our citizens and our businesses can trade with each other and travel, people can exercise their skills across the economy," Davis told reporters during a trip to Prague on Tuesday. "All of these things we need to resolve, and we need to resolve them in the next one to two years."
The statement of ambition comes a day after U.K. Trade Secretary Liam Fox said that while "it would be nice to think we could get a full trade agreement" before Brexit, "that would be an optimistic view of recent free-trade agreements."
May's government once maintained that a trade pact would be possible by the time Brexit happens, despite doubts within the EU and warnings it took Canada and the bloc seven years to negotiate a less ambitious agreement than the one she is seeking. Her failure to retain her parliamentary majority in last month's election and increasing calls from business to avoid a "cliff edge" are now forcing the government to suggest it might need more time.
Davis was also asked by reporters about allowing meat imports after Brexit from countries where standards might not be so high as in the U.K., after Fox on Monday dismissed the issue of letting in U.S. chlorine-rinsed chicken as a "detail." The Brexit secretary said any future arrangements, regarding animal welfare or anything else, will be subject to a vote by the U.K. Parliament.
Before it's here, it's on the Bloomberg Terminal.
LEARN MORE