Trump Administration Increases Aid for Refugees in Lebanon
By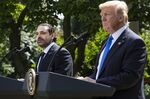 U.S. President Donald Trump's administration is increasing aid to Lebanon by more than $140 million to support Syrian refugees in the country, a move aimed at countering Hezbollah's influence and supporting an ally threatened by the civil war next door.
The aid was announced by the State Department as Lebanese Prime Minister Saad Hariri visited the White House Tuesday. The money will go toward food, shelter, emergency medical care and immunizations in a country with the world's largest per capita refugee population, about 1.5 million displaced people, according to international data compiled by the administration.

The U.S. has provided more than $1.5 billion to Lebanon since the start of the Syrian crisis in 2011.
Trump in a White House news conference with Hariri Tuesday said that Lebanon had "led the way" in accepting an out-sized proportion of Syrians displaced by the conflict in their country.
"I want to commend you and your people for standing up for humanity in a very troubled part of the world," Trump told the Lebanese leader.
Syrian refugees now account for more than two-thirds of Lebanon's total refugee population, along with 18,000 refugees from Iraq and 452,000 longtime Palestinian refugees. Lebanon began tightening restrictions on refugees from Syria in 2015 as it struggled to manage the influx.
Before it's here, it's on the Bloomberg Terminal.
LEARN MORE