politics
EU to Update Poland Sanctions Stance After Court-Revamp Veto
By and
EU Commission to discuss legal, political options Wednesday

Bloc will take into account vetoes against controversial laws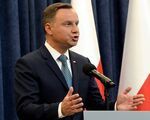 The Polish president's surprise veto of disputed judiciary laws will influence European Union deliberations on Wednesday about whether to punish the bloc's largest ex-communist member for backsliding on democracy.
The European Commission will discuss the legal and political tools it has to prod Poland into scaling back a package of controversial legislation a week after threatening to recommend a "nuclear-option" procedure that could end up stripping the country of its voting rights in the EU. On Monday, President Andrzej Duda vetoed two bills that aimed to strip the courts of independence and hand control to politicians -- measures leaders in the EU and the U.S. have lambasted as undermining the rule of law. But he signed a third measure into law.
The commission, the 28-nation EU's regulatory arm, will weigh the state of democracy in Poland at a regular meeting Wednesday "in light of the latest developments, including the announcement of Polish President Duda to veto two out of the three disputed laws," spokesman Margaritis Schinas said on Tuesday in Brussels.
While the vetoes may forestall a worst-case punishment for the government in Warsaw, they're unlikely to end the standoff with the commission as it seeks to confront members that flout the EU's democratic values. Poland also has allies. Hungarian Prime Minister Viktor Orban, who has vowed to pursue an "illiberal democracy" modeled on Russia and Turkey, said last week his country would use "all legal tools available" to defend Poland.
Read more about Poland's shift toward populism
Prime Minister Beata Szydlo, whose country is the largest recipient of EU aid funds, vowed on Monday to push forward with efforts to bring "unaccountable" judges to heel. Duda himself said that once the bills he vetoed are rewritten, he expects her administration to push through a "wise" overhaul of the courts.
The two draft laws that Duda struck down would have dismissed all of Poland's Supreme Court judges and revamped the Judicial Council, which makes key personnel decisions. He approved legislation that gives the justice minister sweeping powers, including the right to nominate the heads of local courts.
The commission has a range of options for Wednesday that may include:
Issuing a "rule-of-law recommendation" to Poland urging it to make changes to the draft measures deemed to breach EU principles and setting a deadline for compliance
Vowing to start a regular EU lawsuit procedure over the legislation that Duda approved once it enters force
Keeping alive the possibility of recommending that EU governments open a so-called Article 7 procedure, which can ultimately lead to a member state's voting rights being suspended. EU President Donald Tusk, a former Polish prime minister, told TVN24 on Friday that he doubted "anyone will submit a motion to trigger" the process
'Drastic Measures'
Poland's Foreign Ministry didn't respond to repeated requests for comment.
Rebounding from its worst daily drop this year on Friday, the zloty was 0.2 percent stronger against the euro Wednesday morning in Warsaw. Piotr Matys, an FX strategist Rabobank, said investors were closely watching for signs of how the EU would respond.
"Duda's veto reduced the odds that the EC will recommend triggering Article 7 on Wednesday," Matys said in a note. "It is reasonable to assume, however, that the EC may warn Warsaw that it could be very close to use drastic measures against Poland and suspend its voting rights and put on hold EU funds if the Law & Justice party intends to implement bills that could further undermine the rule of law."
Wednesday's discussion by the commission will be the latest chapter in a dispute with Poland that's more than a year old and that has taken place in the context of the EU's first-ever probe of a member country over democratic behavior. The Baltic Sea country of 38 million people has been granted at least 234 billion euros ($273 billion) in EU aid since it joined in 2004, bolstering the bloc's leverage in the political fight.
— With assistance by Adrian Krajewski
(
Updates zloty after 'Drastic Measures' subheadline.
)
Before it's here, it's on the Bloomberg Terminal.
LEARN MORE