New Board Members Agree BOJ Is Far From Talking About Exit Plan
By
They note the BOJ's 2 percent inflation target is distant

Kataoka, Suzuki began their five-year terms on July 24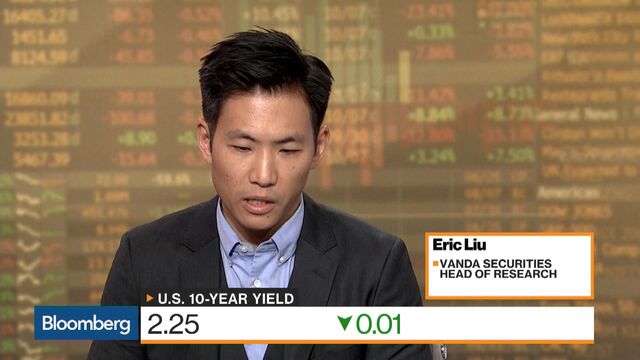 The Bank of Japan's two new board members said it's too early to talk about any exit from the current monetary stimulus program because inflation is far below target, echoing the view of Governor Haruhiko Kuroda.
"Before any exit strategy we must think about how to bring inflation to the 2 percent price target in a stable manner," Goushi Kataoka, 44, an economist and a known reflationist, said in his inaugural press conference on Tuesday. The other new member, 63-year-old former banker Hitoshi Suzuki, said it's "somewhat risky" to start discussing an exit when price growth is far from the goal.
The pair joined the board on July 24, less than a week after the BOJ pushed back its forecast for reaching 2 percent, reinforcing the view that the central bank may be years behind its global peers in winding back its stimulus program. The most recent reading for core inflation in Japan was just 0.4 percent.
During their five-year terms, the BOJ is likely to face critical questions ranging from how it can meet the inflation target to how it will manage its expanding balance sheet, which is already about the same size of the economy.
Read more: Reflationist and banker join the BOJ board.
"The new members will probably be supportive of the current easing program," said Tsuyoshi Ueno, a senior economist at NLI Research Institute. "It's good for now but tough years await them, with growing side effects from the policy, more skepticism on the effectiveness of easing and questions about how to shrink the balance sheet. "
When asked about the unintended consequences of the BOJ's policy, Suzuki said: "Any good medicine has side effects. Once the disease is cured, everything will be fine."
He added that good communication is important, yet surprise decisions are sometimes needed. While BOJ policy has been steady this year, Kuroda has surprised the market in the past, notably when he introduced negative interest rates in early 2016.
Kataoka said the BOJ's policy is not so much about interest rates or the quantity of stimulus, but more about the combination of these measures.
He also said that observers shouldn't judge the content of discussions on the board by whether or not it came to a unanimous decision.
Takahide Kiuchi and Takehiro Sato, who were chosen by a previous government, bowed out as Kataoka and Suzuki came in. They had played key roles as dissenting voices.
Read more: The BOJ loses its vocal dissenters.
With the entry of Kataoka and Suzuki, all nine members of the board are appointees brought in by Prime Minister Shinzo Abe.
After keeping policy unchanged at a meeting last week, Kuroda said contributions to the board's discussions by Kiuchi and Sato were important and he expected the board to carry on with lively discussions with the new members.
Kataoka was an economist at Mitsubishi UFJ Research and Consulting Co., and Suzuki was a banker at the Bank of Tokyo-Mitsubishi UFJ. While Kataoka is known for his support for monetary stimulus, Suzuki's views on monetary policy were less clear until this press briefing.
Kuroda stressed the importance last week of continuing the current stimulus, with yield-curve control and its asset-purchase program.
The BOJ now forecasts meeting its price goal around the fiscal year starting in April 2019, a time frame that's seen as too optimistic by most private economists.
Only four of 43 economists surveyed by Bloomberg expected a policy change before Kuroda's current term ends in April. The next policy meeting is scheduled on Sept. 20-21.
Before it's here, it's on the Bloomberg Terminal.
LEARN MORE