Libyan Rivals Agree on Cease-Fire and Elections Plan
By
Al-Serraj, Hafter reach deal for first time on common text

Rivals met for talks at French chateau with Macron, UN envoy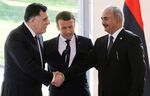 Rival Libyan leaders embarked on a new effort to reunify their country, for the first time agreeing on a common text that calls for a cease-fire, combining the North African crude producer's divided oil company and armed forces, and elections "as soon as possible."
The joint statement was read with the head of the country's United Nations-backed government, Prime Minister Fayez al-Serraj; Libyan National Army commander Khalifa Haftar; French President Emmanuel Macron; and UN special negotiator Ghassan Salame standing side-by-side after talks at a chateau near Paris.
Libya descended into chaos following the uprising that toppled Muammar Qaddafi in 2011, with myriad armed groups and two administrations vying for power. While a UN-mediated peace deal was meant to unite the country, Serraj has struggled to expand his influence outside the capital since arriving in Tripoli in March 2016. Haftar's army controls parts of the country from its base in the east. Salame, a Lebanese academic and civil servant, is the latest of the string of special UN negotiators.
"There is a political legitimacy that's in the hands of Prime Minister al-Serraj and a military legitimacy that's held by General Haftar," Macron said. "They have decided to work together on a political process, on a security process, and for a unified economy that will benefit the Libyan people."
Serraj and Haftar, who's backed by Egypt, the United Arab Emirates and Russia, met in Abu Dhabi in May for the first time since early last year. Initially hailed as a breakthrough, analysts said later the meeting was fruitless. Each side issued its own communique after the meeting, and battlefield developments in the south of Libya soon eroded any goodwill.
'Civilian Executive'
French officials said the meeting at the Chateau de la Celle west of Paris was the first to produce a common text between the two men. The statement wasn't signed because that would have required a political process on the part of both sides, said an aide to Macron. Haftar appears to have gone further than in Abu Dhabi because recent battlefield successes have cemented his military dominance and he now wants more political recognition from European countries, the aide said.
There was a clear agreement that Libya will be a civil state "with the military falling under a civilian executive authority," Serraj said in an interview with France 24. Haftar agreed that elections were needed to solve the political crisis, the premier said, adding that it was too early for him to decide whether or not to run for office.
The declaration appeals to both sides to agree to a cease-fire, with use of force reserved for anti-terrorism operations. The text also said the two leaders seek "to integrate fighters who so wish into the regular forces and call for the disarmament, demobilization and reintegration of the others into civilian life." The national oil company is to be unified, and parliamentary and presidential elections to be held "as soon as possible" under the supervision of the UN.
French officials said the goal of Tuesday's meeting was to define general guidelines that would help Salame reach an agreement leading to elections next year. Macron saluted earlier efforts of countries such as Italy, Algeria, Egypt, Tunisia, Morocco, and the U.A.E. to seek a solution and said they'd all been involved in the preparations for the talks in France.
Italy, France
Italian Foreign Minister Angelino Alfano, in an interview with the newspaper La Stampa published on Tuesday, voiced his country's irritation at Macron's initiative. Italy sees Libya, its former colony, as part of its sphere of influence. 
Italy and France have both been actively seeking a unified Libya because the disorder in the country has led to weapons flowing to Islamic militants in former French colonies in West Africa, such as Mali and Chad, and to human traffickers using Libyan beaches to ship migrants toward Italian shores.
"The Libyan people need this peace, and the Mediterranean deserves this peace," Macron said. "We are directly affected."
— With assistance by Salma El Wardany, and Ahmed Feteha
Before it's here, it's on the Bloomberg Terminal.
LEARN MORE