Former Spanish Leader Meets With Lopez to Broker Venezuela Peace
By and
Zapatero helped free opposition leader from political prison

Opponents demand that president stop rewrite of constitution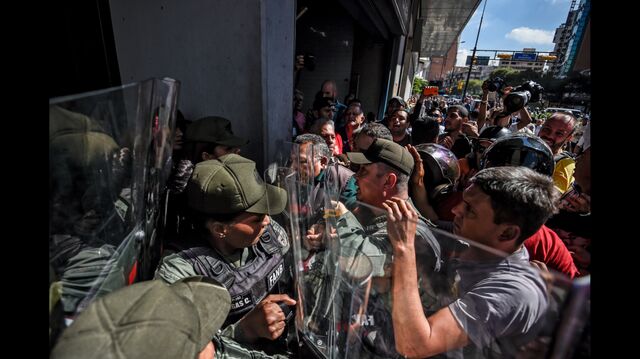 Jose Luis Rodriguez Zapatero, the former Spanish prime minister who has pushed for peaceful solution to Venezuela's crisis, held talks with opposition leader Leopoldo Lopez in Caracas on Monday.
At the meeting, members of the coalition opposing President Nicolas Maduro demanded that he stop a Sunday vote to select delegates to rewrite the constitution, a move they say would be a long step toward autocracy.
"Zapatero was told about the people's demand that the constituent assembly be withdrawn," opposition lawmaker Freddy Guevara said late Monday in a post on his Twitter account. "They talked about the grave conflict that could emerge, and we made it clear that the only one responsible for that is Maduro."
Maduro has said the assembly will supersede all other branches of government, and it alone will determine how long it should stay in power. Opponents, who have mounted massive protests for months, say that the president is attempting to create a Cuba-style regime and end the country's six decades of democracy. They have called for a 48-hour general strike on Wednesday and Thursday and a demonstration in Caracas on Friday to protest the plan.
Zapatero, Lopez and spokesmen for Maduro weren't immediately available for comment.
Zapatero has frequented Venezuela in recent years to push for a dialogue between the government and opposition. While he played a role in Lopez's release after three years in a military prison earlier this month, his involvement in efforts to start a dialogue has been criticized by many opposition supporters. Maduro has so far been unwilling to make many concessions and has increased efforts to crack down on opposition protests that led to clashes that killed about 100 dead during the past four months.
The opposition on July 16 gathered 7.5 million supporters in an unofficial referendum to reject Maduro's plan, while foreign governments including the U.S. have asked Maduro to take a step back. President Donald Trump promised "swift" action should he proceed, and Venezuela's dollar bonds fell the most in a year as investors worried that possible oil sanctions could push the country closer toward default.
Before it's here, it's on the Bloomberg Terminal.
LEARN MORE