Ackman Looks to Chipotle Earnings for Relief After a Crushing Week
By and
Chain to release results on Tuesday following seven-day rout

Norovirus outbreak, mice incident weighed on shares last week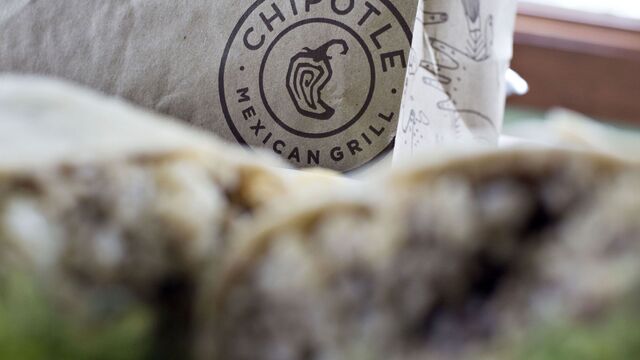 Bill Ackman, Chipotle Mexican Grill Inc.'s biggest investor, could use some good news.
The billionaire hedge-fund manager, whose firm took a 10 percent stake in the burrito chain last year, has seen the stock fall for seven days in a row -- hurt in part by a norovirus outbreak at a Chipotle in Virginia. The holdings, purchased last year for about $1.17 billion, are now worth roughly $190 million less than when they were acquired.
The wave of negative publicity, worsened by a rodent incident in Texas, prompted Ackman to head out to a Chipotle on Wednesday and snap a photo while in line. He shared the picture on Twitter, and it remains his only tweet.
It will take more than social media to save Chipotle, which is still recovering from a health-safety crisis that began almost two years ago. But there may be hope for Ackman and other investors: The company reports its latest quarterly results on Tuesday afternoon, giving Chipotle a chance to show that its turnaround remains underway.
The Denver-based burrito chain is expected to post a 9.5 percent gain in same-store sales, according to analysts' estimates from Consensus Metrix. That would be the second straight period of growth after five straight quarters of declines. The results won't include data from the past week, when health concerns were back in the news.
The more critical test may be whether Chipotle's management can convince investors and analysts that its comeback hasn't been delayed too much by the latest setbacks.
'Clouds Everything'
"It clouds everything," said Michael Halen, an analyst at Bloomberg Intelligence. "The issue is that this extends the timeline -- the question is whether it's a quarter or a year."
It might not take much for the stock to get a bounce after Tuesday's results, considering how much it fell last week. After flirting with $500 in recent months, the stock tumbled below $350 by Friday.
It gave up more ground on Monday before finally beginning to rebound. The shares climbed 2.8 percent to $349.45 as of 11:54 a.m. in New York on Tuesday.
Chipotle had hoped to spend last week focused on a new marketing campaign that featured rapper RZA of the Wu-Tang Clan. Instead, the company was doing damage control on multiple fronts.
In Sterling, Virginia, an outbreak of norovirus forced the company to close a restaurant for two days and deep-clean it. More than 135 people have reported becoming ill, according to the Loudoun County Health Department, which is investigating the case.
"Based on symptoms reported and these preliminary laboratory results, the cause of the outbreak is believed to be norovirus, though the specific source of the norovirus has not yet been identified," David Goodfriend, the agency's director, said in a statement on Monday.
A Chipotle in Dallas, meanwhile, was the site of a different kind of viral incident: an online video of mice skittering across the floor. Customers even told the local NBC affiliate that the rodents were falling from the ceiling.
E. Coli
The incidents renewed a health scare that extends back to 2015, when the company suffered outbreaks of E. coli and other foodborne illnesses. The stock had hit a closing high of $757.77 in August of that year, before the food-safety crisis sent the once high-flying company into a tailspin.
When Ackman and his firm, Pershing Square Capital Management, set their sights on Chipotle last year, they described the restaurant chain as an undervalued business with a "strong brand, differentiated offering, enormous growth opportunity and visionary leadership."
A representative for Pershing Square declined to comment.
The question now is whether the latest woes are just a blip, or a sign of more to come. Last week's incidents will probably weigh on the company's results in the third quarter, Stephens Inc. analyst Will Slabaugh said in a note.
"We continue to view expectations for an expedited recovery as unwarranted," he said.
The company has updated its protocols, adopted in the aftermath of the crisis, and aims to become an industry leader in food safety. Chipotle Chief Executive Officer Steve Ells reiterated that goal in a statement last week.
"We continually strive to find new and innovative ways to ensure our restaurants are safe," Ells said.
Before it's here, it's on the Bloomberg Terminal.
LEARN MORE