Politics Drive Foxconn's U.S. Manufacturing Aspirations
By
The Midwest makes less business sense as a plant location

Trump won Michigan and Wisconsin with narrow electoral margins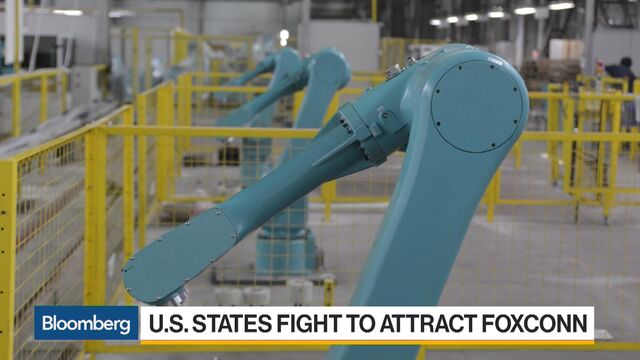 Foxconn Technology Group's plan to invest $7 billion in U.S. manufacturing has touched off a scramble among three heartland states. At stake are not only jobs -- but votes as well. 
A month after Donald Trump was elected president, Taiwan-based Foxconn was one of the first companies to announce plans to invest billions to help create jobs. Michigan, Wisconsin and Ohio are fighting to secure the factory, according to people familiar with the process. The logic behind those sites has as much to do with political imperatives as it does business.

"If you look at the Foxconn plan and the states that they're considering, it didn't surprise me that so many of them happen to be swing states," Caroline Freund, an economist at the Peterson Institute for International Economics in Washington, said in this week's episode of the Decrypted podcast.
Politics has always been a core consideration for the new factory, one of the people with knowledge of the discussions said. Trump won slender victories in Wisconsin and Michigan, while Ohio has long been a bellwether electoral state. Bringing thousands of jobs to those states might help any 2020 re-election campaign.
During last year's contest, Trump pledged to force companies to build their products in the U.S., raising speculation he might impose import tariffs on products such as iPhones. That heightened the risk of a trade war with China, where U.S. tech companies in particular contract out their assembly.

"We're going to get Apple to start building their damn computers and things in this country instead of in other countries," he said at a campaign rally early last year.
Foxconn, which makes the iPhone for Apple Inc. and Xbox for Microsoft Corp., is considering locations in and around Detroit; Columbus, Ohio; and Racine, Wisconsin, the people said. Chairman Terry Gou has said he plans to announce the final site this month.
When picking the location for a new manufacturing facility, companies usually hire a consultant, who compiles a shortlist of potential spots based on criteria such as how skilled the labor force is and proximity to customers and transport connections.
How a Ratings Service Helped Foxconn's Search for a U.S. Factory: Gadfly
Once sites are identified, companies and their consultants approach local governments for sweeteners such as infrastructure improvements, tax incentives or staff training. Ernst & Young LLP is advising Foxconn, according to people familiar with the process.
Foxconn said it's evaluating potential locations and discussing options with government officials in the U.S. It can't confirm the number of jobs to be created, but expects "many direct and indirect" employment opportunities throughout the U.S. supply chain. E&Y didn't respond to a request for comment.
The Midwest was the nexus of American heavy industry for much of the last century. Wisconsin made machine-tooling and metalworking equipment used by Ohio's steel industry. That fed car factories in neighboring Michigan.
Over the past 40 years, industrial employment has steeply declined, and while there's a legacy industrial workforce in the area, politicians have been eager to attract more high-tech manufacturing akin to the Foxconn plant. State-sponsored staff training incentives will play an important role in attracting the plant, given that the required skills are very different from those in the auto industry.
Foxconn has talked of creating as many as 50,000 jobs, but some plans indicate that the plant will more likely employ 5,000 to 10,000 people and make LCD panels, according to one of the people familiar with the process. The company also plans sister plants scattered around the U.S. that will use the panels to make TV and computer screens for its Sharp brand. That may bring the total investment closer to $10 billion, the person said.

Bringing display manufacturing to the U.S. may help Foxconn convince the Trump administration not to impose import duties on the iPhone. Since the rationale for such a tax bill would be to create U.S. jobs, Foxconn could argue that it's already doing this, making levies redundant.
"It's a politically expedient thing for Foxconn to do, to bring jobs to the U.S.," said Shannon Cross, an analyst at Cross Research. "It's trying to head off incremental pressure from the U.S. administration."
Attracting the Foxconn plant to Wisconsin may require "hundreds of millions of dollars" in incentives, the Milwaukee Journal Sentinel reported July 13, citing unidentified sources. Detroit Mayor Mike Duggan flew to Japan in June to lobby Foxconn executives, The Detroit News said. Michigan's House of Representatives passed a bill that lets companies keep some of the income tax paid by workers, an attempt to spur higher-paying jobs.
Yet there's less business rationale for favoring the Midwest over other places, according to Freund and other analysts. The region is isolated from many of Foxconn's customers, has mediocre transport connections and fewer skilled workers than other regions. Contract manufacturers like Foxconn also lean on extensive supplier ecosystems on their doorstep in Chinese cities like Shenzhen and Zhengzhou. The U.S. Midwest doesn't have those networks.
Manufacturing wages in southern states such as Georgia and Alabama are about 10 percent cheaper than in the Midwest, according to the Bureau of Labor Statistics. And they have legislation that prohibits collective bargaining agreements between labor unions and employers -- something Ohio lacks.
When Trump unveiled his economic strategy last August, it was no accident that he delivered the speech in Detroit, the crucible of American de-industrialization. While he promised a job resurgence in a city blighted by unemployment, it's really automation and the need for fewer workers that makes U.S. manufacturing possible again.
"Labor costs are really not part of the equation as much as they used to be," said Erik Brynjolfsson, a professor at the MIT Sloan School of Management and co-author of "The Second Machine Age: Work, Progress and Prosperity in a Time of Brilliant Technologies."
The type of advanced manufacturing planned by Foxconn in the U.S. is readily automated, requiring fewer jobs and limiting the long-term impact on unemployment. Foxconn is best known as an assembler of iPhones, an intricate process that still requires extensive manual labor. But it's unlikely to bring that activity to the U.S., where labor costs are about 10 times more than in China.
"The jobs of our parents and grandparents that, you know, need a high school diploma to go to the factory and work and make a great living -- that doesn't exist anymore," said A.K. Bennett, a 26-year-old Detroit native who attended Trump's speech in August.
While not a Trump supporter, Bennett is a construction manager at Benkari Mechanical LLC, which may benefit if the Foxconn plant is built in Michigan.
"You may have a job for five years, but in five years that job may be gone to a robot," he said.
— With assistance by Isabel Gottlieb, Yuan Gao, David Welch, and John McCormick
Before it's here, it's on the Bloomberg Terminal.
LEARN MORE