business
Moelis Sees Active Telecom Dealmaking as China Mergers Stall
By
Health care and consumer retail are also areas of strength

China deals have 'certainly slowed down' from prior years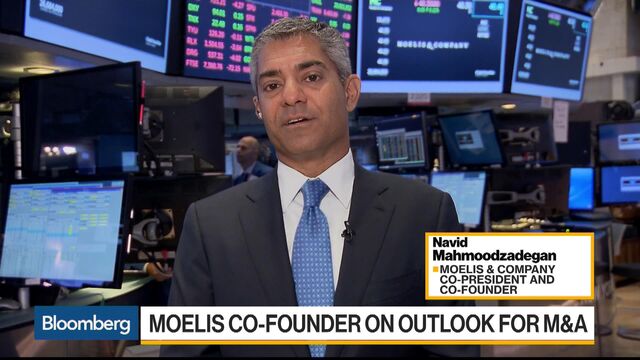 Navid Mahmoodzadegan, co-president of investment bank Moelis & Co., said companies in technology, media and telecommunications are among those seeking mergers and acquisitions, helping maintain business for dealmakers, even amid a decline in transactions involving Chinese firms.
"TMT, health care and consumer retail are pretty active spaces," Mahmoodzadegan said Monday in a Bloomberg Television interview. "When you look across our firm, you're seeing pretty broad-based, good levels of activity."
Moelis has gained market share, ranking 13th so far this year among deal advisers. The boutique worked with Tribune Media Co. on the agreement to sell itself to Sinclair Broadcast Group Inc. for almost $4 billion. Moelis also advised Cincinnati Bell Inc. on its deal this month to acquire Hawaiian Telcom Holdco Inc.
Still, the overall M&A market is down from 2015 levels, with Mahmoodzadegan and others saying that political uncertainties have pushed some potential buyers to hold off for now. He said Monday that international dealmaking has stalled when it comes to Chinese companies, even though that country offers long-term opportunities.
"You've seen capital controls instituted in China. You've seen the government there clamping down on foreign investment, and you've obviously seen some of the political rhetoric coming out of the U.S. about cross-border activity into China," he said. "That part of the market has certainly slowed down from the frothy levels of activity we saw in the last couple years."
Moelis advanced 10 cents to $40.40 at 1:51 p.m. in New York, and is up about 20 percent since Dec. 31. The firm, founded by Wall Street veteran Ken Moelis, won an advisory role to Saudi Arabian Oil Co. on its plan to raise funds in what could be the world's biggest initial public offering. Asked whether there'd be investor interest in the state-run firm, Mahmoodzadegan said he could comment on broad trends.
"Big, important companies globally have access to the IPO markets right now," he said. "Markets are certainly open to industry leaders."
Moelis said in a separate statement Monday that it added a pair of managing directors. Jay Hernandez, formerly of Harris Williams & Co., will focus on the industrial technology sector and work in the Boston office. Jonathan Kaufman was hired from Marlin & Associates to lead the coverage of the financial technology industry from San Francisco.
Mahmoodzadegan's firm is scheduled to report second-quarter results later Monday.
— With assistance by Alix Steel, and David Westin
(
Updates with hires in the penultimate paragraph.
)
Before it's here, it's on the Bloomberg Terminal.
LEARN MORE